I have a soft spot for the fashion industry. All through High School and College I worked in retail. Then a few years into my recruiting career I found my way back there when I landed a job on the recruiting team at Tory Burch.
I love sharing advice that is helpful across all industries, but I love talking about the fashion job search specifically because it is an area I'm so passionate about and it really does have its own rules.
If you're looking for a job or internship in fashion and feel a little lost, here are a few tips and resources I think will be helpful to you:
#1 – Talk to an expert, or someone in the industry
The best information you can get is from someone who actually works in the fashion industry. If you have connections already, that's awesome. If not, let this site or me personally (more on what I do here) be a resource for you.
Just by talking to someone who knows the fashion world you'll be able to get some of your most pressing questions answered. What are hiring managers really looking for? How do you build your resume with relevant experience? What questions should you expect in an interview? What should you wear?
If you can, getting advice directly from those who have been there (and have made hiring decisions) goes such a long way.
#2 – Know where to look for opportunities
The standard job search sites like Indeed and LinkedIn are great to look for fashion jobs but there are also some industry specific sites worth checking out.
StyleCareers.com – This is a site I've posted on many times and have also browsed through their database of candidates. They have jobs from many top fashion brands, a few of which are pictured below. It's free to use as a candidate and I definitely recommend it.
Velvet Jobs Fashion Edition – Velvet jobs is a site I haven't personally used (it's free to browse but you need to pay to apply) but they do have a ton of fashion opportunities posted there.
They have a relatively inexpensive trial for a week if you want to check it out.
FreeFashionInternships.com – If you're a student or looking for an internship, this site has some great postings. The first application is free and then after that there is a small cost to apply. Here's what I'll say about that… since less people will pay to apply, less candidates will be in the pool. This means that the person screening on the other end is much more likely to find you.
I know a few people who have landed internships from this site so it could be worth the cost if you find a job you love. You can also head over to the company website to see if the opportunity is also posted there where you can apply for free.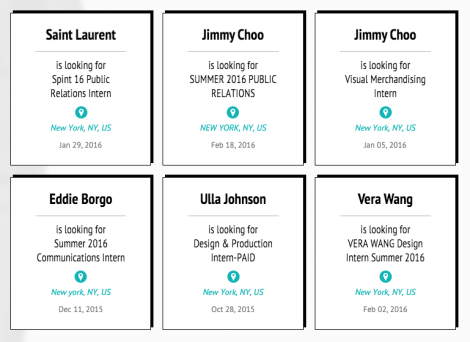 Remember that finding opportunities also often involves networking. If you have contacts at a fashion company, do what you can to get an informational interview so you can learn more about the company, their hiring plans, and the best ways to express interest in jobs down the road.
#3 – Do your research and become an expert
People who work in the fashion industry are really passionate about what they do. They care about the industry, read up on it, and tend to be on the pulse of what's going on with different brands, designers, and products.
That means eating, breathing, and sleeping fashion if you want to break in. Especially in the interview process, it's important to know a ton about the brand you're interviewing with, the categories of their products, their history, and also general info about the fashion world.
Like I've said before, if you want to work in finance you read the Wall Street Journal. If you want to work in fashion you read WWD, Business of Fashion, as well as other industry blogs and publications.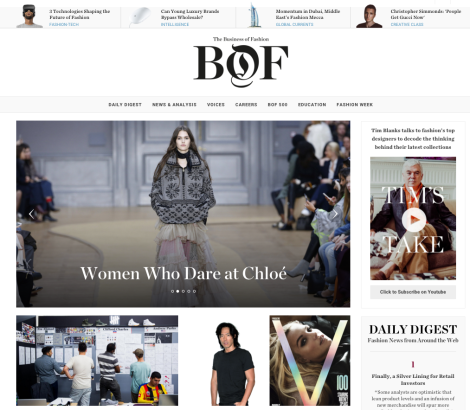 #4 – Know where your skills fit in
You don't have to go to a fashion-specific school to land a role at a great brand. There are lots of different departments that make a brand run smoothly, from Finance to IT to Operations to Marketing to Editorial.
Knowing what your unique strengths (and education) qualifies you for will help you focus your job search and enable you to be much more successful.
The best way to understand where you can best apply your skills is by talking to as many people in the industry as possible. Find out what they do day to day and what skills are most important to have. Research online by reading profiles (like this one).
As an example, to be a Buyer you need really strong analytical skills. To help a brand with their email blasts or social media efforts, it helps to have a background in marketing. If you're really good at problem solving and logistics, you might be a huge asset in Production or a Supply Chain role.
The list goes on… but finding out where you might fit is key.
#5 – Make sure your personal brand (and job search materials) are on point:
When it comes to the job search, there are a few things that make up your personal brand: your resume, your cover letter, your elevator pitch, your LinkedIn profile and your portfolio (depending on the job).
It's important that those materials are all in great shape, in content and also look and feel. This is an industry that cares about aesthetics by nature, so style comes into play.
As far as content goes, you want your materials to send a clear message about your experience, your focus, and your relevant skills.