Thanks for all your great questions that are fueling Q&A Monday. Keep em coming! Today's question is such a good one… and something I bet a lot of you are struggling with.

I recently applied for a job online and haven't heard back. Someone suggested I follow up on my job application by contacting the "decision maker" on the other end with an email. This is to reiterate my interest and draw their attention to myself as a candidate in a positive way. It sounds like a good plan at first glance. But with privacy concerns and the often highlighted note 'no calls please,' I am afraid to be so forward and potentially ruining any chances of getting an interview call. What are your thoughts on this strategy?

---
I definitely have some advice here – let's dive in!
To cold email or not to cold email?
First up, let me just say that I do think you should follow up on your application (by email) if:
You meet the qualifications of the role
You are excited about the job and the prospect of working for the company
These two things are what make you a great candidate for a job… and if you're an ideal candidate, your networking email will be welcomed and not be seen as overly forward or annoying.
Given the "no calls" language, I would not recommend following up by phone (even if you meet the criteria above). In fact, I find that emails or LinkedIn messages are a better approach even if the posting doesn't specify that.
Who should I email?
So the next area to tackle is who to contact. Your friend was spot on by encouraging you to find the "decision maker" because you'll get the most bang for your buck with that email.
This will usually be one of two people in the company: the recruiter or the hiring manager.
I'd recommend doing some LinkedIn research to figure this out. Use the advanced search feature (on the right of the search bar) to enter in the company name and the title "recruiter" (or sometimes "talent acquisition"). Make sure you've selected "current" in both of those fields as well.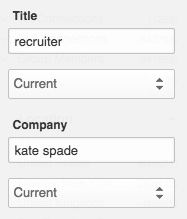 Finding the hiring manager is a bit trickier. Sometimes a job posting will say "this position reports to the …" and then you have your answer. If not, you can try searching for the department and making your best guess on who is in charge from the search results.
This is a total stranger! How am I supposed to email them?
Two options… the first is to purchase LinkedIn inMails. This is the easier option but you also have to pay for it (totally worth it in my opinion and if the person doesn't respond you'll get the credit back).
The 2nd is to guess the email naming convention of the company and email the person directly. There is a full post about this here.
So what should it say?
Here's a template I'd encourage you to follow. It's brief, not super aggressive, and if I were on the receiving end of a note like this, I'd definitely give the attached resume (or LinkedIn) a look.
Dear [contact],
I am reaching out to express my interest in the [role name] role which I applied for online [give the general timeframe of application]. I am a [defining professional characteristic – e.g. "recent graduate of…" or "X professional in the X industry"] with significant experience with [the area(s) of expertise the job requires]. 
+ (optional) one more line about how your experience relates to the job
I am also very interested in working for your [company]. 
+ why you're interested in working at the company
I look forward to hearing from you and would be thrilled to have the opportunity to interview for this role.
Thank you, [you]
Of course, as with any templates, you should adjust the above so it is in your "voice" but sharing why you're qualified for the job and why you'd like to work for the company are 2 points that are important to hit.
Final thoughts
When you have something to offer a recruiter or hiring manager, and can help them solve their problem (filling the job with a qualified candidate), your networking email will be welcomed.
In my experience the worst thing that can happen (which very well may happen) is that your note is deleted or ignored. The best case scenario is that you're able to rise to the top of the pile of resumes (virtual pile of course) by writing a thoughtful and enthusiastic note.
Take a look at this post with some basic cold emailing etiquette and you should be good to go!