In both of my recruiting roles (JPMorgan and Tory Burch) I attended quite a few career fairs looking to meet and share information with talented students. For recruiters, career fairs are fun and a great way to get in front of a ton of people at once.
For students, they're a really good opportunity to meet and learn about many different companies in one room. They're efficient, but also kind of crazy and intimidating. There are tons of people running around, lining up at the most popular booths, and awkwardly approaching recruiters for "mini-chats" not knowing exactly what to say or gain from the conversation.
SO, let's get strategic about this! A little bit of preparation, goes a long way. Here are 6 easy things you can do to make the most out of your next career fair.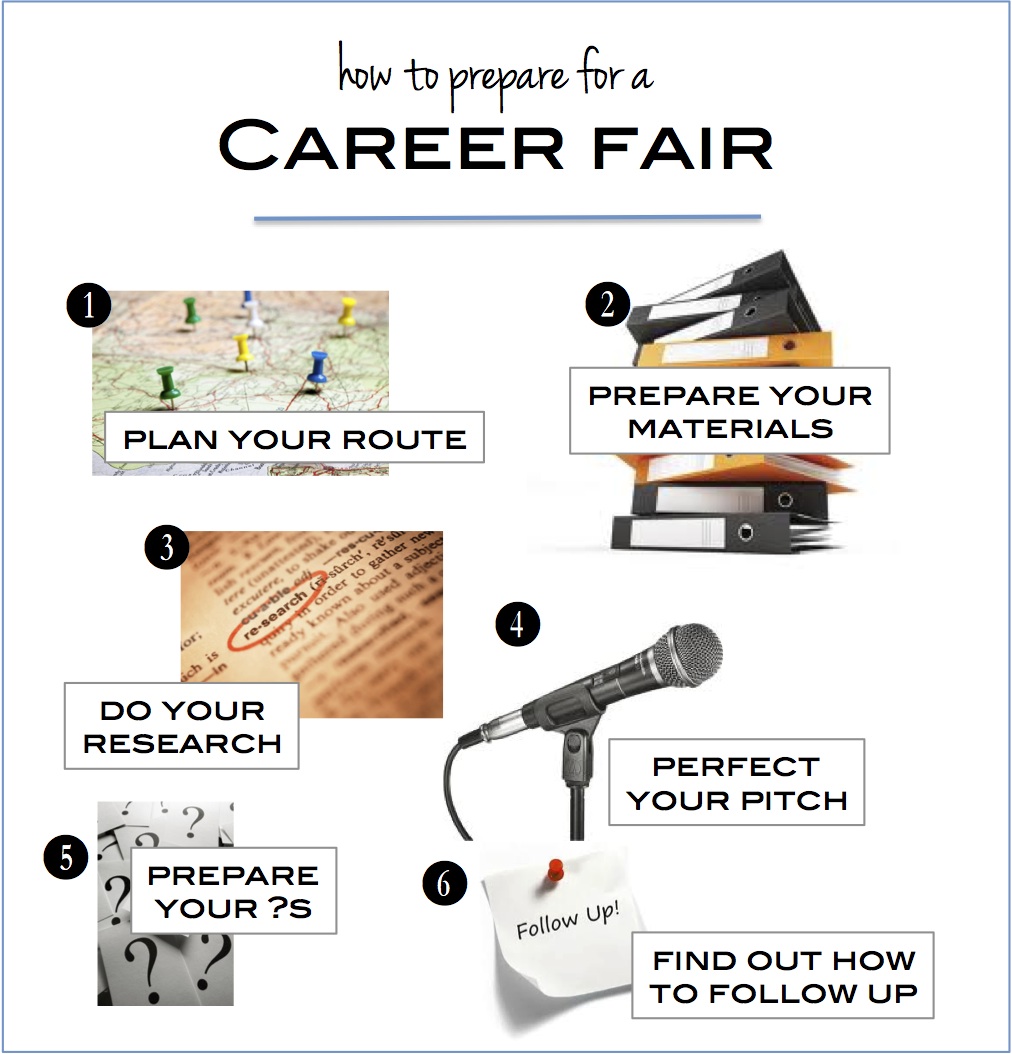 Plan your "route"
Do not go in without a game plan! Prior to the career fair, you will have access to a list of companies that will be attending. Take a look at this list, narrow it down, and decide which companies you are the most interested in. You won't be able to make it to every booth in the fair, so this is all about prioritizing.
Also, make sure those companies are interested in you! For example, if a company is on campus trying to fill a full-time position but you're looking for an internship, you should spend your time elsewhere. Since lines and crowds will always be unpredictable, plan to visit companies in the order of your interest level.
Do your research
Once you choose which companies you want to visit, find out what the company does, what types of roles/programs they are looking to fill, and any other information you can gather online or through your career center about those roles/programs.
Compile the right materials
Get a folder together with all the essential materials to tell your story "on paper." This may just be copies of your resume or it may include other materials like letters of recommendation or a portfolio. Either way, have them organized and ready to hand over the moment you step up to the table.
Recruiters are prepared to hang onto your materials and likely will input them into some type of database when they get back into the office.
Perfect (and customize) your pitch
Each time you walk up to a table, you should be ready to hand over those materials and "pitch." The ideal pitch is clear, concise (around 30 seconds), and customized to the company. A good formula to consider following is:
QUICK INTRO (name, year in school, major) + PLANS FOR THE FUTURE (this summer, or post graduation, I'd like to…) + WHAT YOU'VE DONE ALREADY (to gain experience in this area I've…) + HOW COMPANY FITS IN (this summer, or upon graduation, I am interested in working at your company because…)
I have a full article here with a ton more detail on elevator pitches plus an example which I definitely recommend reading!
The research you do will help you customize your pitch to each company. It is okay to cast a wide net and consider a diverse group of companies/roles, but make sure you can speak to how each fits into your overall career plans when you pitch.
Prepare thoughtful questions
For each company you plan to visit, come up with a few questions that are thoughtful and practical. It's important you ask things that you can't just easily look up online. To show you've done your research I suggest asking a question that takes something you learned a step further. An example would be "I read online that your company has an amazing Accounting Internship Program. What qualities and skills does the ideal candidate for that program need to have?"
Find out how to follow up
After you've "pitched" and asked a few questions, wrap up your conversation by reiterating your interest and finding out the best way to follow up and apply. Generally people will tell you if they prefer phone, email, just applying online. Make a note each time you leave a table on the preferred method of follow up (and the suggested timing) and actually follow up! When possible, get the contact info of the person you've spoken to so you can send a thank you and stay connected.
---
I know it seems like a lot, but as with so many parts of the job search, the more you prepare, the better off you are. Career fairs require a unique amount of preparation because your time with each company is so limited. The candidates that always stuck out to me were the ones that could sell themselves, prove a genuine interest in the company, and get tangible "takeaways" out of the conversation. Taking the steps above will help you do just that.