I love trying out new apps, and often browse the app store looking for new and interesting ones to help organize the chaos of work and life. One of my favorite recent discoveries is Wunderlist – a simple (but well designed) to-do list app that has stood the test of time on my iPhone home page.
I have no affiliation with Wunderlist whatsoever, but genuinely love it so much that I wanted to write this review… and share it with all of you.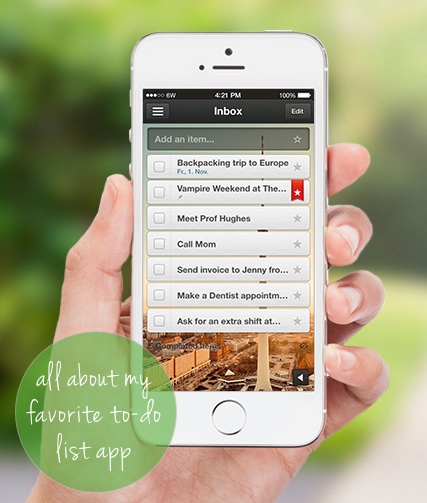 I've tried many different to-do list apps over the past few years and this one is by far the best. First of all, it's incredibly well-designed which creates a great user experience. From the way you can move around tasks or the satisfying "check" sound when you complete something, it's really a nice app to interact with.
Wunderlist is great because it doesn't over-engineer the to-do list. You simply create as many different categories as you'd like and then start entering you to-dos within them. You have the option of entering something super quickly or adding details and a due date. If you add due dates, your list will sort in order of what's upcoming. While that's the default, you can drag each task around and place them in any order you want. If you want to get really crazy you can even add sub-tasks within a task.
I really like that you can view your upcoming tasks in different ways. You can look by category or project, or you can see what you need to do that day or that week. Depending on what I'm working on, I prefer to view my tasks in different configurations. The by category view really helps me project manage and take a step back to look at the big picture (and all the different steps I need to take to get there). On the other hand, sometimes I just really need to know what I need to do on a given day.
Another game changing feature… seamless updating across all of my devices (and I like to check my to-dos on many). I utilize the iPhone, iPad, and web-based app and just seconds after typing "send birthday card to…" it'll appear on any device I check. This makes it incredibly easy to add and check items of the list no matter where I am.
And then Wunderlist also has all the features you'd expect from a to-do list app: reminders, notifications, the ability to export/print, and most importantly, the ability to collaborate with others on certain projects or lists.
Best of all, Wunderlist is totally free. You can opt to spring for their pro version but I've never found the need to. Hope you find this app as game-changing as I do and I'd love to hear you thoughts!
All photos from Wunderlist.com