If you're thinking about making a career move in the new year, you may be wondering what to expect and also feeling that "where do I even start?" pit in your stomach.
Although every company recruits a little bit differently and there will always be nuances, the typical job search process has 6 big steps. This post will dive into each one and share some resources to help you be the best candidate possible at each stage.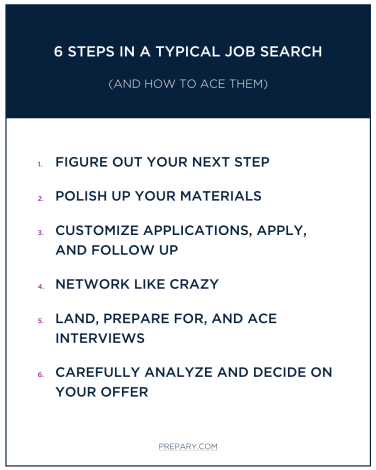 Step 1 – Figure out what you actually want your next move to be
This sounds simple but is where a lot of people get stuck. You know you're ready to do something different and you're not happy at your current job, but not quite sure what's next.
When I work with clients, I go through a number of what-should-I-do-with-my-life brainstorming exercises, but the Start/Stop/Continue exercise is my absolute favorite.
Step 2 – Polish up your job search materials
Once you figure out the types of roles and industries you're targeting, it's time to dust off your resume, LinkedIn profile, and cover letter. Great application materials are not only nicely formatted, well-written, and error free, but they're also CUSTOMIZED to the stuff you're applying for.
Here are a few articles that will help you with this stage:
Step 3 – Apply and always follow up
After your materials are in good shape, it's time to start applying. I am a big believer in quality over quantity when it comes to applications. Trust me that you are MUCH better off applying to 3 roles a week that you are really excited about (with tailored, thoughtful materials) than sending 50 generic applications out for jobs that you may or may not be qualified for.
Now here is the key. You can't just apply to jobs, sit back, and expect to get a phone call. Popular companies get thousands of applications for some jobs, so they are inundated. Whether it's with a cold email or asking for a referral, following up in some way is as absolute must.
Step 4 – Network, network, network!
Aside from following up on applications, you should constantly be networking in your job search. When you kick off your job search, write a thoughtful, personalized email to professional contacts who would be willing to help you out. Tell them why you're thinking of making a change, what you're looking for next, and how they can help. If people don't know you're looking, there is nothing they can do to support you, make introductions, and help you reach your goals.
Additionally, I suggest attending relevant networking events and forming a mini-pitch (detailed in this post) about your search for when people ask, "How's work?" Instead of focusing on the negatives of your current job, share what you're looking to do next and see if they know anyone you should connect with.
Step 5 – Become an interviewing pro and ace those interviews
Assuming you apply for roles that you're a great fit for and submit killer applications, you're going to land interviews. With a typical job search process, there will be a short phone screen followed by 1-3 rounds of in-person interviews with the recruiter, hiring manager, and other colleagues you would be working with if you landed the job.
I've said this many times, but by the time someone looks at your materials and calls you in for an interview, it means they fully believe you could be the one to fill their open job. Your goal in a job interview is to prove them right!
One of the most impactful exercises when preparing for an interview is printing out the job description and next to each item listed, writing something you've done that is similar or relevant and then thinking of examples of times when you succeeded at doing that thing.
Being able to master these three interview questions, will take you very far in a job interview.
Once you have an interview on the books, I'd definitely recommend checking out the common interview questions section of the site and also my interview prep worksheets. I also have helped hundreds of clients prep for interviews by conducting mock interview and feedback sessions so do email me if you're interested!
Step 6 – Landing an offer and deciding
Woohoo! We're at the end of the road. After going through all of the steps above, you will land an offer. Generally, offers are first given verbally (often over the phone) and then are followed up with an official offer letter in writing.
By the end of the job search process people are often worn down and tempted to take the first offer they get, but I definitely would encourage you to think long and hard before signing. When you are deciding, think about things like the work environment, the people, the work itself, the potential for growth, and the rewards (compensation is one, but not the only one!)
This is also the stage of the process where you should consider negotiating your job offer. Whether it's for more money, vacation time, a better title, or anything else, this is the best time to ask. You have a captive audience who has gone through a lot (like you have!) to get to this stage. They're not going to want to lose you now!
Like buying a house, often times a job won't hit 100% of your criteria so the important thing is to figure out which factors have the largest effect on your happiness and weigh them heavily.
---
So that's the drill – easy, right? As with so many things, this is all easier said than done and I know that people get stuck at each of these steps for different reasons.
My A to Z consulting package is directly based off these steps and I love helping clients making the most out of each of them and achieving their job search goals.
If you're interested in working together in 2016, email me anytime or sign up for a free intro call to learn more about job search consulting services.