I spent 4 years of my career working and recruiting in the Fashion industry and I know that it's a world a lot of people want to break into. It's competitive to get your foot in the door but a very fun, interesting, and dynamic industry to work in. So if you're trying to get a job in fashion, here are 3 things you should absolutely keep in mind. As a former recruiter in this industry, I can tell you that these 3 things really, really matter, and will give you a competitive advantage in your search.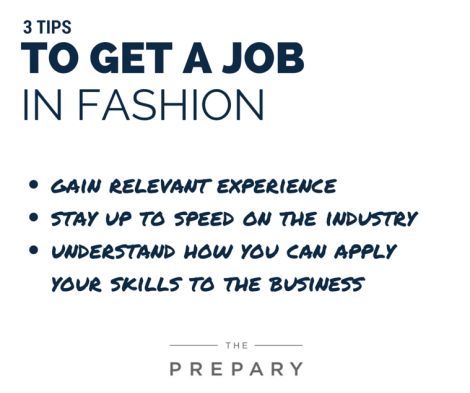 One. Start as early as you can, and gain relevant experience
It's really never too early to start. If you're a student, your goal should be to get as many fashion-related internships as possible. Gaining relevant experience (through volunteering, interning, or working in a related role) is important regardless of if you are enrolled in a fashion program in school. I've hired people into entry level roles who graduated from fashion programs, liberal arts programs, and business programs. What those hires had in common was that they had relevant experience outside of school.
If you're having trouble finding internships (or are just past that point in your career) look for freelance and volunteer work. Fashion companies often have high volume weeks whether it's because they are promoting a new line or because they're having a fashion show. No matter how you get involved (even if it's just for a week) you can add this experience to your resume and become a more desirable candidate.
Two. Stay up to date
If you're looking for a job in finance, you should be reading the Wall Street Journal. If you are looking for a job in fashion, you should be reading WWD.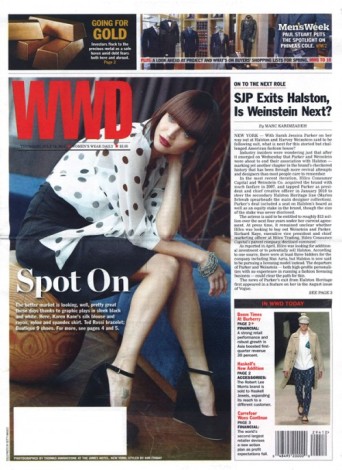 WWD covers trends, shows, and most importantly what's going on in the business of fashion. You'll learn things like which brands are expanding (or shrinking), which big designer just moved to a new company, which companies have recently gone public, put out a new product line, changed their direction, etc.
I definitely recommend getting a subscription if you are serious about a career in fashion. Many people in the industry get a copy delivered to their desk each morning and will be impressed if you've made the effort as well.
The research doesn't end there. Beyond reading WWD, I'd suggest making a list of 20 brands you'd like to work for, following them on social media, and signing up for their customer email lists. I also recommend setting up google news alerts with the names of any companies you're interested in so you're aware of any big changes.
Being well researched will serve you well throughout your job search. It'll allow you to write more meaningful cover letters, know more about why you want to work for different brands, give you something to talk about in informational interviews, and will enable you to really impress your interviewer in a job or internship interview.
Three. Understand where you fit into the business
You don't have to be a designer to work in fashion. There are many different teams that make a fashion company run, from Finance to IT to Operations to Marketing to Editorial.
Though you may be tempted to say "I will do anything, I just want to get my foot in the door!", that doesn't work in your favor. For every person who comes in for an interview and says "I'll do anything" there are 10 others who say "I can see myself doing this type of role, and here's why". Who would you choose?
The best way to understand where you can best apply your skills is by talking to as many people in the industry as possible. Find out what they do day to day and what skills are most important to have. Research online by reading profiles (like this one).
You can also leverage job descriptions. Read through many different Assistant level roles (if you're entry level), get a good understanding of the responsibilities, and form an opinion on what'd you be good at doing. You can pick more than one area, as long as they are related and you can back up your interest in each.
Understanding how you can apply your skills to a brand and being able to articulate that will make you so much more successful in the interview process. I promise!
Hope these 3 tips help you in your search!