Even though summer is months and months away, students across the country will soon start thinking about where they want to intern this summer.  Internships are such an amazing way to build your resume, test out your interests, see what it's really like to work in different industries, and most of all, to start gaining critical skills.  This post is about how to choose an internship that's right for you.
While almost any internship experience will be beneficial to you in some way, here are some things we think you should consider before you choose an internship for this summer.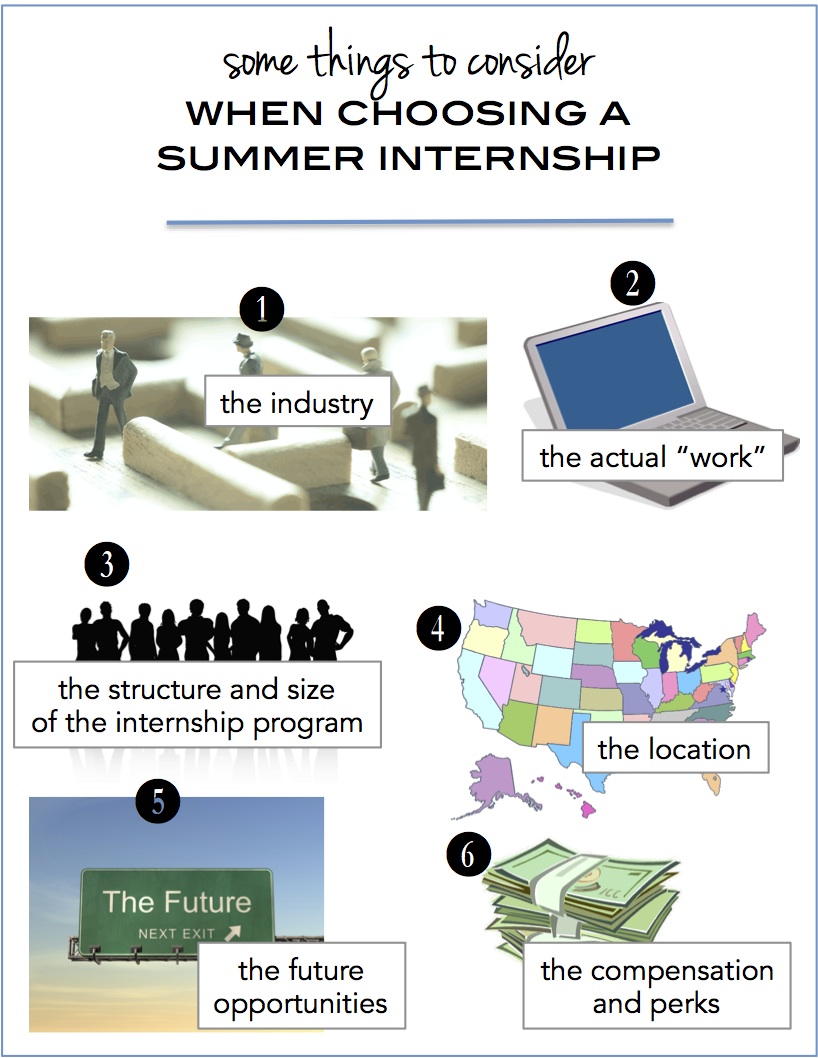 The industry:
Say you want to intern in HR for example.  Almost every industry out there has an HR team (because it is a support function).  However, interning in HR in finance versus fashion versus entertainment will all be very different – even though it's the same type of job.  The skills you gain will probably be transferable, but really think about what industries excite you.  Which ones are you passionate about?  Being immersed in an environment that actually excites you will make any type of internship much more exciting and rewarding.
The nature of the work:
What will your day to day be like over the summer?  Some companies will have you organizing files and getting coffee.  Other companies may have you work on projects that make a substantial impact on the business.  When choosing an internship, you should try to determine how much "hands on", true-to-life, experience you will be able to gain.  Sometimes you are going to be able to tell by the job description but other times you'll have to ask.  Asking former interns is obviously the best way to get to scoop but you can also dig into this in the interview process.  Those who you are interviewing with will likely be really honest and forthcoming about the work.
Structure and size of the internship program:
Is the program large and structured or are you the only intern?  Is it a rotation program or will you work with one team all summer?  I can't say that one type of structure is better than another – because it's really a personal choice and depends on the environment that is best for you.  However, for pretty much anyone, training and education sessions will be a bonus.  A large program will also help you form a network with your fellow interns and collaborate on projects.
The location:
I know these seems basic, but location is important for a few reasons.  One is of course.. you have to spend your summer there!  The other is that your summer internship is a time that you will build not only your relationship with the company but also develop a network.  It is ideal to start building that network in a location you'd actually want to live and work in post graduation.
The future opportunities: 
During the interview process, you'll want to ask the company about their full time opportunities.  Do they have a lot of entry level openings? Do they like to fill those openings with former interns? Interning with a company that says yes to both of those questions will increase your chances of landing in a full time role after graduation.  Even if you decide to pursue other companies for your first full time role, it's great to have this as an option… and at some companies it just won't be.
The compensation & perks: 
The most obvious thing to consider here is is that some companies pay their summer interns and some don't.  You might want (or need) to consider this when making your choice.  The range of pay can be wide one.  You can earn anything from a stipend for lunch to a weekly salary close to what you would make as a full time hire.  Aside from the compensation, factor in other perks.  Product discounts, free trips, fun activities, training sessions, etc can be hugely beneficial, even if you are not getting paid.
This is just the tip of the iceberg in terms of deciding where you want to intern, but if you consider these 6 factors, it will help you make a thoughtful and educated decision about your next internship.
While choosing a summer internship might seem stressful at the time, know that there is something to gain from almost all internships.  Whether you're getting great hands-on experience, learning from those above you, or even learning what you don't want to do, an internship is a great start to building your resume and figuring out the right career for you.