I wouldn't say I'm the authority on desk decor, but I do have a lovely office which helps me stay organized and productive… and I personally think it looks pretty, and most importantly, clean!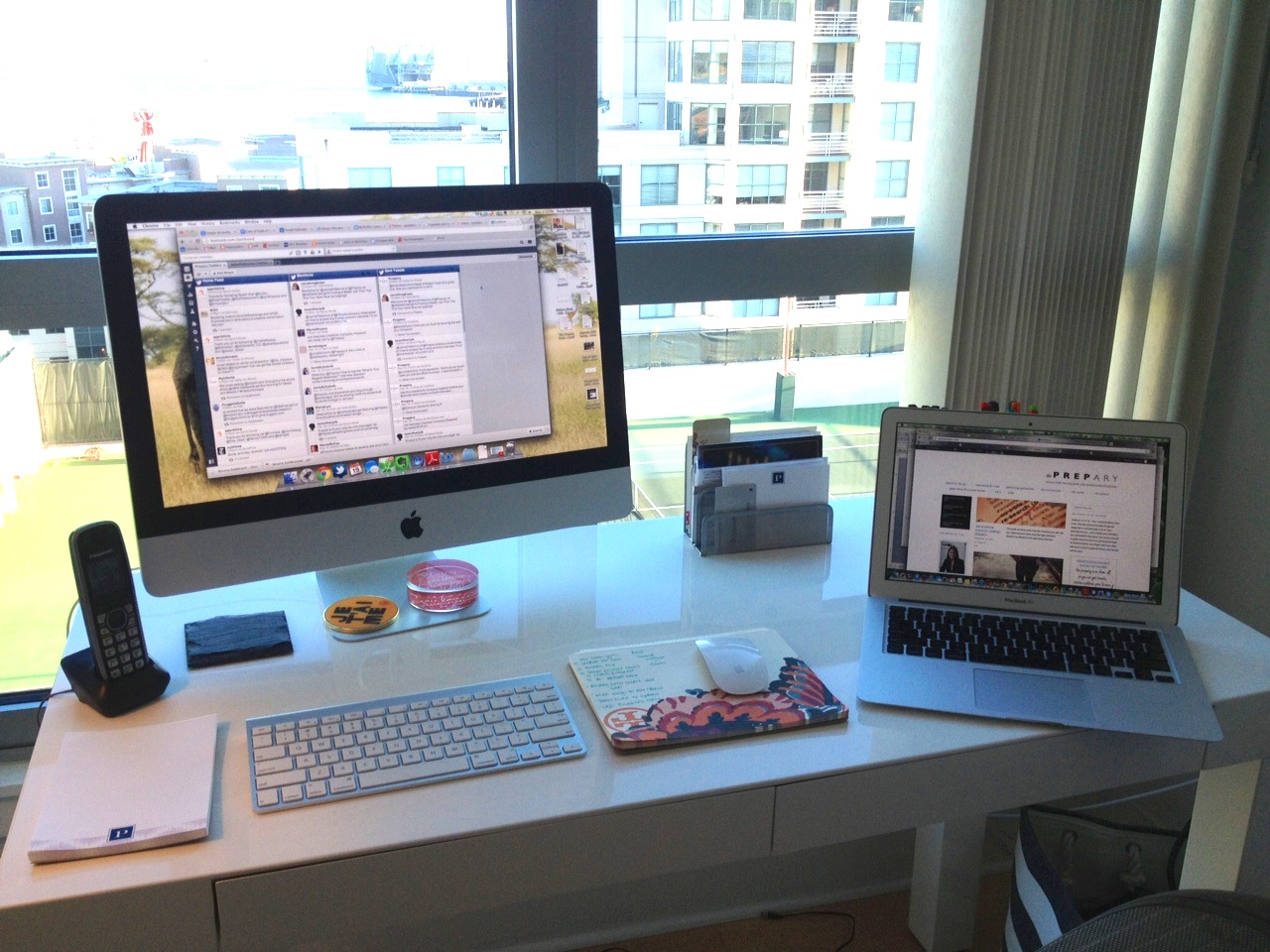 Whether you are putting together your home office, your desk at work, or a small desk sitting in your bedroom, making your desk a happy and organized place is important.  It makes you more excited to be there, do better work, and feel "at home".  While I'm still looking to purchase a few of the items I'm about to recommend, here's how to create an organized and chic desk.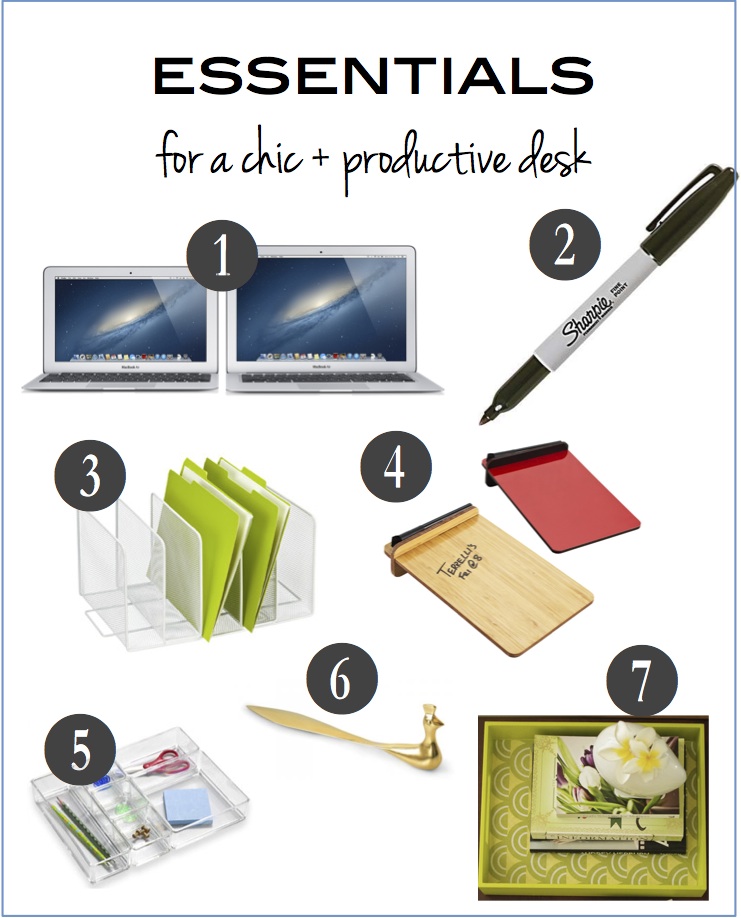 Good technology
I personally feel that making an investment in a good laptop or desktop is a worthwhile move.  When your computer moves too slow, has viruses, or flat out isn't working it makes you a lot less efficient.  Of course, at work you are at the mercy of what is handed to you, but a good personal computer goes a long way.  Personally, I'm a Macbook Air gal.  It's good at your desk and great on the go. Oh, and check out CollegePrepster's tutorial on making a monogram computer background – it's a great way and easy way to personalize.
Your "signature pen"
I know this sounds kind of silly, but taking notes with one type of pen that you really really like can make all of your notes feel way more organized.  It's just a weird mental thing. My favorite pens are these Sharpie Ultra Fine ones which come in tons of fun colors too.  I stick with the black.
Some type of paper soter
I happen to hate paper and try to avoid it at all costs (I scan everything through the Genius Scan app!) but in case the occasional paper does come across my desk, I put it right in an organizer so it doesn't just sprawl across my desk.  I love a good acrylic one but the Container Store has many good options.

A white (or non-white) board
While things you want to keep track of should go in a notebook or task management program, there are some things you just need to look at today (i.e. pick up dry cleaning). Having a small dry erase board handy like the one pictured above.

A sorter for random accessories
Paperclips, staples, rubberbands, and other small accessories can make a big mess of things.  I love these types of organizers to keep them organized without taking up too much space.
A little bit of "fun stuff"
A cute letter opener from Jonathan Adler, a frame with your puppy or family, and anything else that gives your desk a little personality and makes you smile is a necessary addition.

A good tray
Ever notice that no matter how many little things are scattered around they somehow look better on a tray? The same thing applies to your desk.  A good "catch all" tray will help you at least look organized even if you don't feel like it.  My tray (not pictured) has made me feel better about leaving my desk on many nights when I was rushing.
What'd I leave out? What are your favorite desktop gadgets and accessories? Any that are particularly related to job searching? Leave some comments!