I'm a big fan of video interviews and I've interviewed and evaluated tons of candidates that way.  I expect that video interviews (especially for 1st screens) will start to replace phone calls and in-person interviews.  When you prepare for a video interview, you should do all the things you'd normally do to get ready. However, there are also some other logistical things you'll need to look out for and do: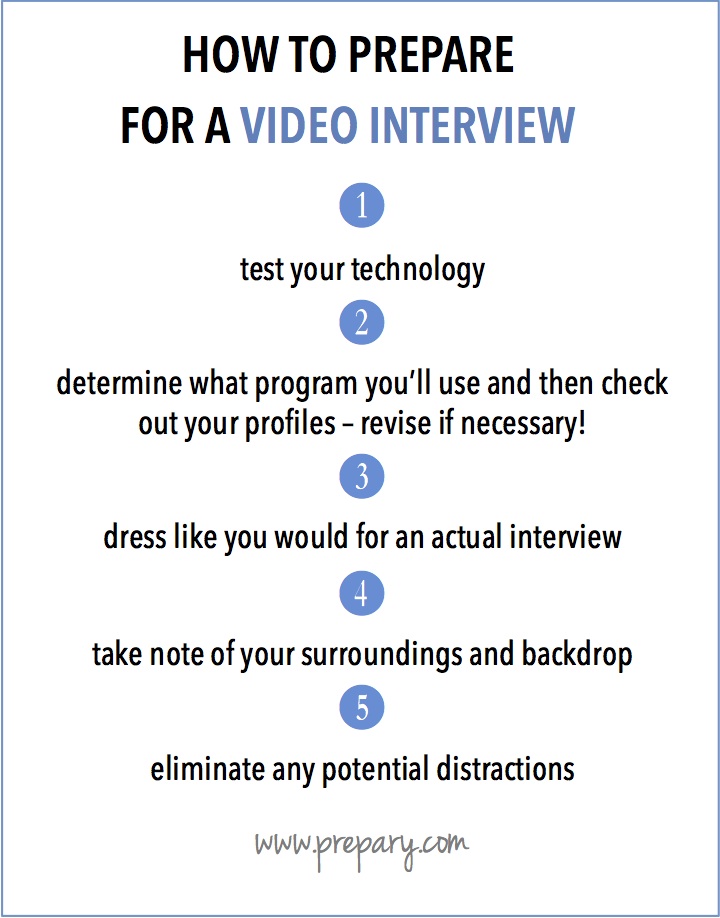 Test your technology
Make sure you have the right technology to do a video interview and then test it.  It is probably the most ideal to do a video interview over the computer.  That means you'll be sitting at a desk and have a piece of technology that won't move around, wobble etc. Next best is some kind of tablet that you can prop up somewhere.  After that, a cell phone will do, but it tends to produce the worst image.  Even sometimes when I'm facetiming with my friends, I can't believe how terrible I look on my iPhone!
Once you choose your technology, you'll need to test it to make sure there is a good connection and no technical errors. Do this with a friend or family member who is in a different location than you are.  If the connection is shaky, try plugging your device directly into your modem versus using wireless.  This has helped me on many occasions.
And if you don't have the technology, perhaps someone you know can lend it to you. Try to exhaust any possible options versus saying you're unable to do the interview this way.
Determine what program you'll use and then check your "profiles"
Your interviewer will probably let you know their preferred method of video interviewing whether it be Skype, Facetime, Google, or something else. Interviewers will generally choose something where it is free to set up an account and sometimes give you more than one option and let you choose.
On most of those programs, you will have an existing username and profile and in some cases, you might not have updated it in a while.  Make sure your username and profile picture are professional and appropriate.  I have definitely seen some ones that haven't made the best first impression.
Dress for an interview
Just because you're on a video interview, that doesn't mean you can abandon interview dress codes.  I actually recommend dressing exactly as you would if you were going on an in-person interview with that company.  I know many people say that you can just dress from the waist up, but I don't recommend that.  What if you have to get up for some reason? Better to be safe than sorry!
Take note of your surroundings and backdrop
When you're doing your "test" video chat to check the connection, also take note of where you are sitting and what your surroundings are. Best case scenario you are in a well lit spot with a clean/professional backdrop.  Too many personal details or being in an intimate space like a bedroom can come across as unprofessional.
Overall, sometimes you have to video chat based on what space is available (I know my NYC apt wouldn't have been ideal!) so do the best you can.  Don't go crazy, but make an effort to tidy up and create a professional-looking backdrop when possible.
Eliminate all distractions
In terms of your surroundings, it will also be important to eliminate any distractions.  As sad as that is, that means locking your cat or pup out of the room for the duration of the interview.  Turning your cell phone and any other devices off is another must.  If you think you might have people dropping by, leave a note on the door so you won't get interrupted.  All this being said, I've seen plenty of puppies, babies, cats, etc. pop onto Skype interviews and it really hasn't bothered me – I actually find it funny!  Since you never know what your interviewer might care about, better to not chance it.
Basically you're just trying to create the same type of distraction-free environment as you would have in an in-person interview.  This will also allow you to fully engage with the interviewer on the other end.
You may read these things and think, "does this stuff really matter?"  As I've said before, for the absolute perfect candidate, with the perfect skill set, it probably doesn't matter if your lighting is a little off.  Finding the perfect candidate would trump any lighting scheme or internet connection speed issues.  However, these things will impact the interview (and make an impression on the interviewer in terms of your polish and professionalism) so unless you're that diamond in the rough, it really could matter.
Of course, the quality of your answers and how you speak to your experience is always the most important thing, so don't forget to still prepare in the same way you would for an in-person interview and practice the most common questions ahead of time.
Have an interesting or funny story about a video interview you've been on? Share it in the comments!