Oh the informational interview… something so many of us are encouraged to ask for, but also something that is such big time sacrifice for the recruiter or person on the other end. If you're lucky enough to land one, there are 3 major mistakes you should absolutely avoid.
First let's lay out the basics.
A typical interview is a conversation scheduled to discuss a specific job – based on the fact that someone looked at your resume and thought you were qualified for that job. An informational interview is when you are extended an interview / conversation / screen by a company that is not for a specific job (so more of a general conversation).
Obviously the former is more common. Recruiters (and others within the company) have limited time and it's already time-consuming enough to recruit for a position you can't wait to fill. Informational interviews are rare and a gift, so it's your job to do go in and really wow your interviewer.
Here are 3 major mistakes I've seen when it comes to informational interviews.
(The good news?  It's easy enough to avoid them!)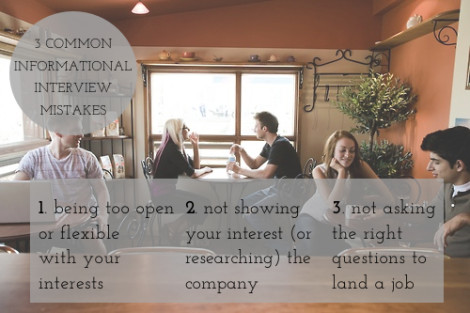 Being too open in terms of your interests
While your goal in the informational interview might be to learn more about the company and get on the radar, the recruiter's goal is actually to see where you may fit into the organization in the future. The best thing you can do is come prepared to discuss specific areas of interest with a point of view.
I know it may seem that being "open" and flexible (aka: "I'll do anything!") is helpful, it actually won't serve you well. For every candidate who is "willing to do anything", there are 5 others who know exactly what they want to do, why they want to do it, and have started to build their skills accordingly.
Be that candidate!
Take it a step further and actually check the open jobs at the company before going in to the interview. Do you see one that you meet the qualifications for? (related post: how to analyze a job description) If so, feel free to bring up that specific job when you are chatting about your interests.
Not showing your enthusiasm (& knowledge) for the company
If you took the time to get an informational interview without a job in mind, you're probably pretty excited about the company. Even if you're not, you should definitely be convincing the interviewer that you are!  (related read: Why do you want to work here)
Not only should you show a high degree of enthusiasm and interest but you also need to do your research and really know your stuff. Leading up to your interview read the companies website, follow them on social media channels, read Glassdoor reviews – really learn about what they do and why they do it (related read: how to do research on a company).
One of the questions your interviewer will absolutely ask in an informational interview is "why are you interested in this company?"
Not asking the right questions
This is your opportunity to pick someone's brain about their company. To appear genuinely interested and to get the most out of the conversation you need to ask the right questions.
Find out what it's like to work there – and how different teams (particularly the ones you're interested in) contribute to the business. Find out more about your interviewer – why they decided to work there and how their career path led them there.
Most importantly, find out what you need to do to land a job there. Do you need to build certain skills or take a class in a certain program? Which leads me to my next point and the last mistake people often make…
Failing to figure out the key next steps
After an informational interview is over, the ball is in your court. Before you leave that room (or coffee shop) you must find out:
1. The best way to keep in touch – i.e. "Would you mind if I follow up with you every so often to check in and share what I've been working on?"
2. The best way to express interest in a job when you see one posted – i.e. "If I see a job of interest on the careers site in the future should I reach out to you or another contact at the company"
Also, make sure you act on those next steps. Set up a job alert with the company so you know when different roles open up.
Have you gotten a job through an informational interview? Share your story in the comments!