We've all been there. A post-work drink, turns to two… or three. Next thing you know you're walking into the office the next morning with an extra cup of coffee, a hangover, and probably a few regrets. I was so excited when Leona (bio below!) offered to write up a post on the topic. Thanks Leona and enjoy!
---
I love a post work happy hour with my colleagues. These outings help bridge the personal/professional gap that naturally arises in the workplace.
Assuming all goes well, happy hour is an opportunity to unwind, connect with people outside of my normal work routine, and foster relationships.
But what if it doesn't go so well? A happy hour gone wrong could mean a charred reputation, ruined relationships, and in the worst case scenario, a lost job. Follow these simple guidelines to guarantee a successful night out instead of an embarrassing one.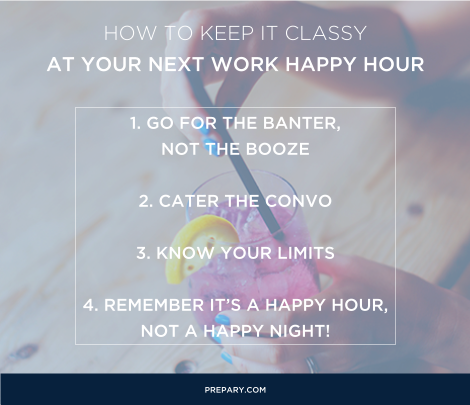 Go for the banter, not the booze
If you're at a happy hour, of course you'll have a drink or two, but don't let that be the focus of your night. You should be socializing more than sipping. It's important to be actively involved in conversations and engaging with different people throughout the night. People love to talk about themselves, so asking a few questions about your colleagues can go a long way. You don't want to talk too much, but facilitating conversation is a great way to maintain your flow and show your socializing skills
Cater the convo
When you're caught up in conversation, be mindful of what you're saying. Even though you've left the office, you're still with your coworkers, so save the inappropriate and personal subjects for your friends. This includes highly opinionated topics like politics or religion, it's best to stay neutral and positive around other professionals. If you're afraid you'll run out of things to say, brainstorm a couple of conversation starters in advance to stay on the right track. Perhaps you've read an interesting article, or tried a great new restaurant recently that you want to share. Whatever you do, don't resort to office gossip. If the conversation takes a turn for the worse, it's better to stay quiet, change the subject, or walk away.
Know your limits
It's important to know your own personal limits. Are you the type that needs to eat before you have a drink? Do you get emotional after too much wine? You should know these things about yourself so you can avoid them. Open bars and free drinks are tempting, but it's important to keep track of how much you're consuming. You don't want to be the person out drinking everyone, nor do you want to be pushing drinks on other people. If alcohol isn't your thing, go for juice or club soda so you can still socialize. Tolerance varies person to person, but a safe rule of thumb is 2-3 drinks with water in between.
It's happy hour, not happy night
Happy hour is limited for a reason, use that timeframe as a guideline for yourself. Don't look at these outings as an opportunity to be out with your coworkers all night. The more time you spend, the more likely you are to drink more. If you need a reason to leave, make a commitment that forces you out. Schedule dinner with a friend or make sure you're home for the new episode of your favorite show. You want to leave on a high note, not an embarrassing moment that will confront you in the morning.
---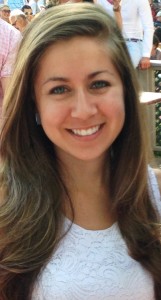 Leona Jones is a Client Service Executive at The Nielsen Company where she's supported media clients for the last 3 years. She is a graduate of Nielsen's Emerging Leaders Program and continues to recruit and select talent for the program at her alma mater, the University of Florida.
Through her role as a Nielsen recruiter, Leona supports her passion to offer career advice and coaching to students and post grads interested in her field.