I've said this before but I dislike the concept of cover letters. I think companies often ask for them but do not read them, and I wish companies gave more guidance on what they want to get out of them so applicants can spend their time wisely.
However, I get it. Without asking for a cover letter, you're opening the floodgates because you've created the easiest application on earth. If there is no barrier to entry, you're going to be sifting through thousands of resumes of people who may not even care about the job at all.
So… given that we all still have to live with these, and if you're in the job search you're probably writing a few, here are some things recruiters actually care about when it comes to your cover letter.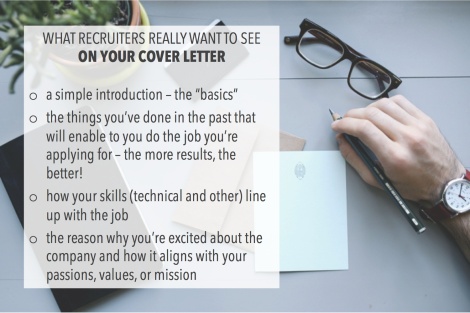 1. To start – who you are and what you want
What are a few things that define your professional career or aspirations? This could be your academic status if you're a student or have just graduated or a short summary of your career stats. Here are two examples:
My name is Jaime and I'm a recent graduate of New York University with a degree in Psychology" (student)
My name is Jaime and I've spent the last 7 years of my career working in Human Resources & Recruiting
After getting the introduction out of the way, get to what you want. Let the reader know what job you're expressing interest in and how you found it (especially if it was through a referral or there is an interesting story behind it).
2. If you can do the job… through real examples
The next thing an employer wants to figure out from your cover letter is if you can do the job. However, they're not just going to take your word for it. You're going to need to share things you've done in the past that are related.
You can easily figure out what's expected based on the job description so use the next part of your cover letter to share things you've done in the past that are in line with those expectations. The more you can use concrete examples or specific metrics, the better. Here's an example:
Using the above job description as an example I might say in my cover letter…
"I was excited to see in the job description that a big part of this role is owning the email marketing process and managing many of the brand's social accounts. In my most recent role at [company] I am responsible for weekly emails that go out to an audience of [#]. I do everything from conceptualizing the content, to pulling it together from various sources, to proofreading and sending. I also am responsible for updating the company's Twitter and Facebook accounts. During my time working on this I increased our social communities by [X%]."
While it doesn't always have to be this literal, the more closely you can relate your experience, the better. Pick 2-3 things you know are important. There's no need to cover the full job description.
In addition to highlighting examples and results, be sure to also mention any technical skills you've developed that are relevant to the job. Keep in mind your resume does a good job sharing technical skills/programs, so no need to have a laundry list in your cover letter.

3. That you're passionate about the company, and there is a "fit" there
Companies are not looking to hire the person who randomly threw 50 applications out there yesterday to see what would stick.
They want to hire people who understand what the company does, cares about it, and aligns with their mission and culture. This should all be addressed in your cover letter. Companies are getting more and more proactive about talking about their work environment on their jobs or careers site (example below).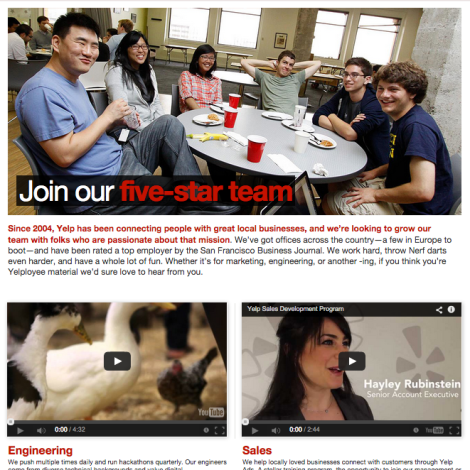 You can generally find out a company's culture and mission pretty easily these days. Use that to your advantage.
---
So now that you have the most important bases covered, wrap up your cover letter with a nice closing.
Something along the lines of "I'm very excited about this role and hope to have the opportunity to meet the team and share more information on my background" should do the trick. It's really as simple as that.
Yes, I've heard of people putting together outrageous and creative cover letters and maybe there are companies and industries where those end up working out. If you're looking for a risk-free, yet effective model to follow, this one will serve you well!