This article is going to cover 4 simple things you can do today to refresh your LinkedIn profile. Keeping your profile informative and current is key if you are thinking about looking for a new job now or in the future.
I can't say enough about how important LinkedIn is in today's job search. Many recruiters skip going through online applications all together and go straight to LinkedIn to find great candidates for their open jobs. So if you've slacked a little and ignored your LinkedIn, let's get cracking…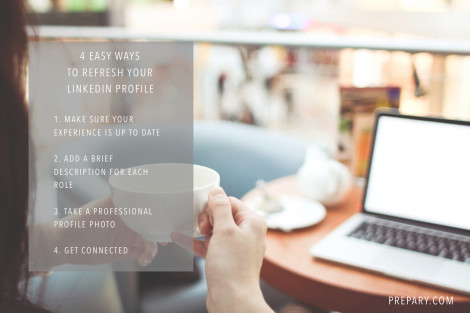 1. Get your experience up to date
First, make sure your work experience is up to date. That means that your job title and company should be 100% current. When recruiters look for candidates on LinkedIn for a specific job, they mainly look for people who are currently doing similar roles.
After you've been working for a few years, consider deleting things off your LinkedIn. If you're a Financial Analyst (and have been for 3 years) you probably don't need to still have your role as Summer Camp Counselor on your profile. Think about what's relevant to where your career is heading from here.
2. Add descriptions
This step is key! Do not skip it. While your LinkedIn profile should NOT be a replica of your resume (way too much info) you should add a description for each role you've done. So if you are currently a Finance Analyst, write 1-3 lines about your main areas of responsibility.
When recruiters are searching for someone for a certain role, job titles aren't always going to be literal. A few years ago I was working as a "Talent Acquisition Associate" which essentially means "Recruiter". However, if someone was looking for a recruiter they might not have come across my profile because my title was different.
Adding the line "Recruit for open roles…" clarifies my title and allows people who are looking to fully understand what I do.
3. Make sure your profile picture is up to date & professional
Actual experience trumps your profile picture, but your photo does matter. It's a reflection of your overall poise and professionalism and like it or not, people are going to judge it. You don't need a professional photo shoot to get a good LinkedIn photo. Just think about how you'd show up to an interview (from an appearance perspective) and find or take a photo that mirrors that "presentation".
A few tips for photos:
The photo should be of you only
You should look polished and professional (not like you're out for the night)
Smile! Look friendly and approachable
4. Get connected
Especially if you are starting a job search, look for people you've worked with or had professional relationships with and connect with them. I recommend only connecting with people you actually know and have worked with (if you want to reach out to someone you don't know I recommend using inMail instead).
Being associated with professionals in your industry or even having a contact in common with the person who is looking at your profile can make you come across as a stronger candidate.
Additionally, as people move around in their careers, you never know when someone you've met or worked with in the past will be essential to connect with. 
It's really easy to connect with people on LinkedIn. I actually find that the "people you may know" suggestions are spot on and often people I do want to connect with!
---
Hope this post has encouraged you to make some easy and quick updates to your LinkedIn profile. They may be little things, but they will make a big impact.