If you've ever applied for a job online then you are probably used to the radio silence that often follows. It can be very frustrating, especially if the job you applied for is one you feel you'd be perfect for.
In this post I'll first share the most common reasons why you are not hearing back after applying, and then cover what you can do to change that.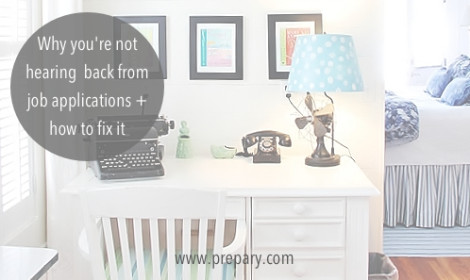 First, why aren't you hearing back?
In my experience, there are 3 common reasons…
1. No one saw your application – The most popular companies are getting tons of applications each day – hundreds or even thousands for each job. From a recruiter's perspective having tons of interest in your job is both a blessing and a curse. The good news is that there are many qualified candidates in the mix, but the bad news is that it's going to take a lot of time to sift through and identify them.
For that exact reason, you may not be hearing back simply because no one has gotten around to looking at your application.
2. You're not qualified – There's also the possibility that someone did look at your application but determined that you weren't qualified/the right fit for the job.
Some companies will notify you if they reviewed your resume and didn't decide to move you forward, but the majority take an approach of "If we don't contact you, you can assume we're not moving forward" which leaves you in the dark.
By going back to the job description and reading carefully through the requirements you can get a pretty good idea if this is the reason you're not hearing back. When companies say they want 3 years of something, it generally really means they're not going to call someone with less than 3 years.
3. There are already enough qualified candidates in the mix – Job postings usually remain posted until an offer is signed, sealed, and delivered. That means that by the time you come across the posting, the recruiter could be in any number of stages of the recruiting process (resume screening, first rounds, final rounds, offer already out, etc.)
If a recruiter already has a few high potential candidates in the mix, they will be focusing their efforts on moving them through the interview process versus looking for fresh new applicants. If the candidates don't end up working out the recruiter will go back into the application pool, but otherwise you might just miss the boat.
Keep in mind that there could be a ton of other reasons you're not hearing back, but most of the time it's going to be one of the above.
So what you can do to get your application seen?
The good news is that it's completely within your power to get your application seen and find out more about where you stand… and it's all about reaching out to an actual person.
First, look for connections
Look within your network (leverage LinkedIn, Facebook, alumni networks, your friends/family) to see if you know anyone who works at the company you applied to. If you're lucky enough to know someone first hand, reach out and ask them to pass along your information to the appropriate contact.
Perhaps you don't know someone directly but you notice someone you know has a connection to someone at the company. If you know the person well, ask for an introduction or even just the email address of their contact so you can reach out.
[read this post about how to ask for a referral before you do so! There is definitely some etiquette here that is important]
In your email to your contact, make sure you mention the job you applied for and why you think you'd be great at it. Keep in mind that if you don't know the person well (or if it's a second degree connection) it's important to not act entitled.
If they feel it could be a good fit and are willing to pass it along, that's great, but acting like they owe you something is the best way to get your email quickly deleted!
If you can't find a connection, send a cold email
When I say "cold email" I mean sending a message to someone at the company who you don't know to check on your status. Similar to emailing a contact you have, you should still mention the job you applied to and can ask where you stand in the process.
[Check out this step by step guide to writing cold emails first]
I generally find it most effective to email a member of the recruiting team or someone in the department to which you applied. It's very possible that they get your email way before they would check your online application.
Go old school – send (or drop off) a hard copy
This is a bit of a last resort as the other 2 approaches will be much more effective, but hey, it's easy enough and worth a shot. While sending a hard copy of your resume (by snail mail or dropping off in person) may not solve the problem of knowing where you stand, it will result in getting your resume seen.
Most people (even if they hate it) open their physical mail. I know I've opened plenty of hard copy resumes, and if I opened a great one that actually seemed like a good fit for the job, I'd call.
If you're going to do this make sure the presentation is impeccable – nice thick white paper (old school resume paper no longer a thing in my mind), a well-formatted cover letter, and a nice envelope addressed with neat handwriting.
---
Have you used any of these tactics to get your application seen? Share in the comments.