Now that campus recruiting is in full force, I wanted to write a little bit about how "school rules" work and some challenging situations with them.  Each campus has their own "school rules" regarding campus recruiting.  They generally pertain to the timing of interviews and offers (i.e. can only happen after X date).  For an example of these types of guidelines, check out Harvard's Office of Career Services site.  They are in place for a few (really good) reasons – to keep the process fair and to enable the students to properly evaluate their options before making a final decision.  As Harvard's site says:
"In order for students to make effective decisions, they must explore all of the options open to them."
Some campuses are overcrowded with companies and they all want to recruit the same groups of students.  Because of this, companies may violate the school rules and try to get students to commit to their offer without knowing what the other outcomes will be.  Harvard's site spells this out as well:
We expect employers to honor all offers made to students and that no conditions will be placed on the offer (e.g., "We have 10 offers outstanding for 8 openings and will accept the first 8 students who get back to us," etc.). No incentive (e.g., "We will provide a $5,000 bonus if you sign today," etc.) may be offered to induce students to accept offers early.
So if that happens to you, what do you do?  There are a few different scenarios that can play out:
The most common scenario is that your #2 company choice gives you an offer (that violates school rules) while you're still in the interview process with your #1 choice. So what do you do?  Do you you accept your #2 and drop out of #1's interviews? Do you ask #2 for an extension? Do you try and use the offer to rush along your #1 choice? (hint: not recommended!)
The recommended avenue here is to alert #2 to your school rules and ask them to give you the allotted time.  Hopefully they will agree to this and operate in line with the school rules.
Of course this is the ideal outcome.  Unfortunately it is still possible (and not uncommon) that they won't or they will have some type of negative reaction to make you feel like what you're doing isn't optimal.  An example of this is saying something like "fine, you have until that date, but we can't guarantee your preferred location or team".
This is completely against policy as well and campuses take it really seriously.  I have seen employers get banned from recruiting on campus for this type of behavior.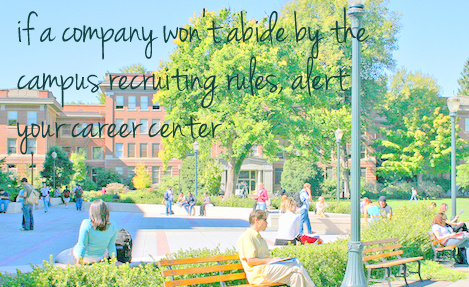 Hopefully you won't encounter this in your own campus recruiting process, but if you do your career center will be on your side so you may want to go to them and alert them to what's happening and get advice. If it is happening to you, they are 100% doing the same thing to others as well.  Ultimately, the campus recruiting "school rules" are in place to help you not be in an uncomfortable situation and do what's best for the students.  Help them do this and ultimately, it will help you!
Have a story about your own campus recruiting process and want to share how you navigated it? Email me at [email protected]