Happy Holidays everyone! Hope you're planning to relax, unwind, and spend time with family over the next few weeks.
While work should be the furthest thing from your mind while you're on vacation, here are 3 things I'd encourage you to do before 2016 arrives. Whether you're job searching or not, now is the perfect time to reflect on the year that is (nearly) behind us.
1. Write down your big accomplishments from 2015
If you're on The Prepary email list (you can sign up here!) you already received my free printable to help you track your accomplishments.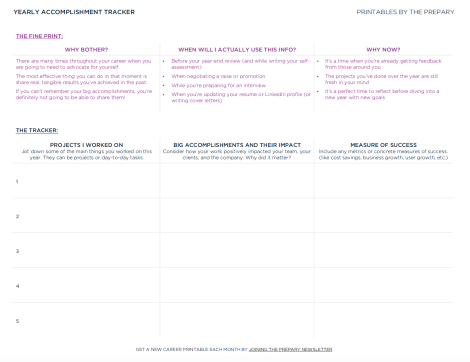 You worked hard this year, supported your team in so many ways, and likely had some really solid results.
If you don't write them down now, they'll become harder to remember when you need them handy.
There are many times when you'll reference this chart including when you're preparing for your year-end review, negotiating a promotion or raise, updating your resume and LinkedIn, or interviewing for new opportunities… and I guarantee you'll be doing at least one of those things in the new year.
2. Make a resume laundry list so when you're ready to update, the information is already waiting for you
Most of us don't update our resumes until we absolutely have to. The problem with this is that #1, you never know when an opportunity is going to come up out of nowhere and someone is going to need your resume ASAP and #2, it's really easy to forget the things you've done if you don't keep track of it all. Basically, the longer you go without updating or thinking about it, the harder it will be.
If you have five minutes, you can do this simple exercise of making a resume laundry list. Whether it's in an Excel sheet, an email to yourself, or your cell phone notepad, start jotting down anything and everything you've done this year (or since the last time you updated your resume).
Don't worry about wording it nicely. The goal right now is just get it down on a page. When the time comes to give your resume an update you will have a great starting point and can pick and choose the items that are the most impressive and the most relevant.
3. Thank those who have supported you throughout the year
Last but definitely not least, show your gratitude to anyone who has supported you in your career during 2015. Whether it's your boss, a recruiter you met during a job search, colleagues, networking contacts, or friends… now is a great time to reach out. Wish them a happy holiday and thank them for all that they've done for you.
A handwritten note or even a thoughtful email will go a long way.
---
With that, let's all enjoy some time off and recharge. Happy Holidays and thanks so much for following along with The Prepary this year!