Graduation season is upon us once again. The class of 2014 is ready to celebrate and then make their way into the "real world". I was one of those people who couldn't wait to begin working and start the next chapter of my life (even though that job didn't come until a few months later!) Whether the grad in your life has a job lined up or not, here are a few of my favorite graduation gifts that will not only celebrate the moment but also, help them tackle "the real world".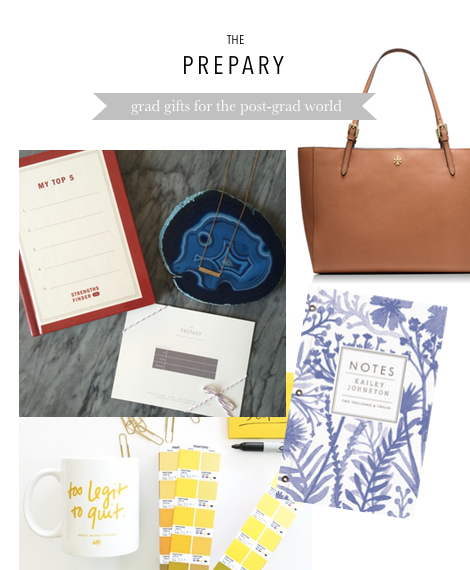 The gift of job search help!
For those graduating without a job lined up, the stress has probably already been mounting. Give the gift of The Prepary and get your recent grad into good hands. I've worked with many recent grads on getting their application materials together, helping them prep for interviews, and much more. Some people can even benefit from guidance on what types of jobs are out there and what would be a good fit based on their strengths.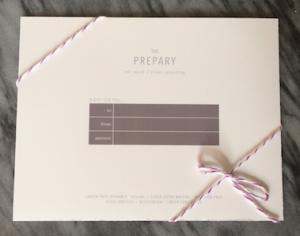 Email me at [email protected] if you'd like to purchase a gift card of my services for your graduate!
A personalized notebook
College is a ton of hard work and requires intense organization, but so does that job search or first job. I've always been a fan of a nice personalized notebook. Somehow the nicer the notebook, the more I enjoy actually using it to keep my day afloat! The notebook pictured above is from minted.com.
I'm totally a sucker for a good "assessment" but after I read StrengthsFinder (and took the assessment) 5 years into my career I immediately wished I read it sooner. The blurb from Amazon sums up the  concept nicely: Do you have the opportunity to do what you do best every day?  Chances are, you don't. All too often, our natural talents go untapped. From the cradle to the cubicle, we devote more time to fixing our shortcomings than to developing our strengths.  I love this approach and it's such a great message for a recent graduate. Anyone embarking upon a new career is going to be good at some things and not as good at others. I love that this book encourages you to feed your strengths versus beating yourself up on your weaker areas. When you purchase the book, it comes with the online assessment so the recipient can actually see their top strengths.
The perfect work tote
Having one, great, work bag that can fit folders, a laptop, an ipad, and everything else (and somehow keep it all organized) is huge. I think the Tory Burch York Tote (pictured above) is so gorgeous, functional, and is at a great price point for a (very special) grad gift.
A personalized accessory
While I love anything monogrammed, the Destination Necklace pictured above from Kalaki Riot takes it a step further and gives you the chance to print a very special set of coordinates on a beautiful piece of jewelry.

I love the idea of using the coordinates of their college campus or even home address if your grad is moving to a far-away city to start work.
A cute mug or desk accessory
Can't spend $300 on a grad gift for everyone you know! A simple desk accessory is always great if you don't want to spend a lot but want to acknowledge the occasion. I am especially obsessed with the one above from Ashley Brooke Designs.
What gifts are you loving for recent grads? Share in the comments!