I won't insult you by trying to tell you about Serial for the first time right now, but I have discovered a newfound love for podcasts because of it, and I'm now convinced podcasts are the cure for the daily commute. My former coworker Julie has been onto this for some time with her 2+ hour commute but they're great for the shorter ones too.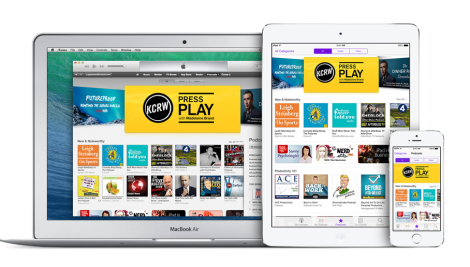 First things first. If you haven't gotten into Serial yet, go ahead and do that (don't even finish reading this post). What a fascinating story taped over the course of 10+ podcasts about a man serving a life sentence in prison for a crime he may (or may not) have committed. There is a good overview of the podcast on Cup of Jo if you want to hear more. If you're already obsessed like I am, skip straight to this amazing post from The Bold Italic with "Charts for People Obsessed with Serial".
What I realized while I was making my way through the Serial episodes was that the tasks I typically dread the most – running errands, traveling to meetings via the subway, folding laundry – suddenly didn't bother me. I was actually looking forward to them because I knew I had something interesting ready to go. I know most of you have some sort of commute to work so I would definitely encourage you to get on the podcast train right away!
Here are a few podcasts to get you started:
Serial which we already covered above. Start here!
This American Life (the same creators as Serial) which takes you through a variety of interesting, yet true stores about everyday people. Each episode is based on a theme and I highly recommend episode 360 about two babies being switched at birth and not finding out until 50+ years later. Crazy!
Prologue Profiles is a podcast by my friend Dan Feld which I've written about on the site before. Each week he talks to different people who are pursuing their unique and impressive career dreams. He interviews people in all different industries, from the creative to the very technical. What I love about this podcast is that it shows the very windy road most people take to success and finding their niche. When looking in from the outside it's easy to speculate on something/someone being an "overnight success" but it rarely works that way in reality.
Startup is a podcast that was just recommended to me (thanks Mark!) and I'm looking forward to listening to. It's all about starting a business and the twists, turns, and learnings that come up along the way.
Do you listen to podcasts during your daily commute? Which are your favorites? Leave a comment!