When you're in your job search, there is a desire to be remembered – by the people you've had informational interviews with, by the recruiters you met, and by the hiring managers who interviewed you.
Even if an opportunity hasn't come up yet, the hope is that these people will think of you when one does. The problem is that they (especially recruiters) have a whole lot of people to remember… so it's tough to assume that.
Occasional outreach to keep connections "warm" is a good best practice. However, I've seen people take this outreach way too far. I've personally received resumes on t-shirts, lunch delivered to my desk, and many other "creative" forms of outreach that felt like way too much. However, the sentiment behind it was a good one: to do something nice and stay "top of mind".
As a new year approaches, a time when budgets are approved and new roles open, it's a perfect time to touch base and you have the perfect excuse… send a holiday card!
If you've been in touch with a recruiting contact or anyone else at the company it's really nice (and beneficial) to send a holiday card.  It's thoughtful and it reminds the person you're still out there/interested.  Here are a few rules of the road if you're looking to try this out!
Make sure you actually have a relationship with the person you are sending to – If you've met someone at your dream company or have talked to them extensively over email/phone than that counts in my book as a "relationship".  If it's someone you've reached out to multiple times with no response, skip it.
Keep the card religion neutral – When you're sending this type of card make sure it says "happy holidays" or "happy new year" versus leaning towards a specific holiday or religion.
Take your "personal" life out of it – The holidays are a great time to send cards with your kids and dogs on them, but not to the people who are going to help you get a job.  Use a simple one like the example below.
Keep the note short and sweet – Wish the person a happy holiday and new year and re-express your interest in their company and keeping in touch.  This is not the opportunity to ask a question or ask them for anything in return.  Just a nice gesture!  A sample note is below.
Snail mail it – I think electronic thank you notes are totally fine (because time is a factor) but when sending a holiday card, consider taking the snail mail approach.  Of course, a thoughtful email is nice as well. As long as you're writing a personalized note, either route can make a good impression.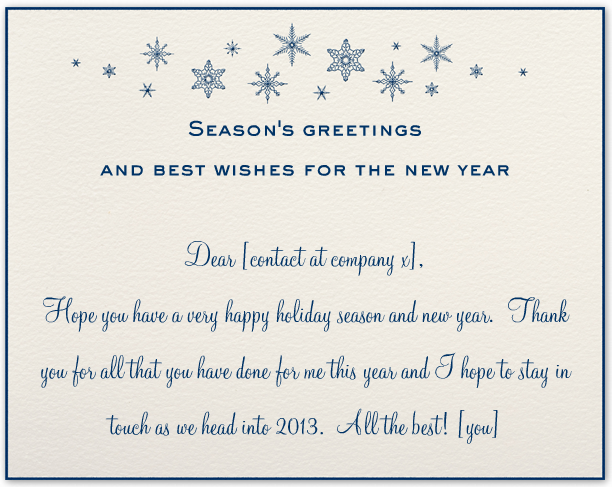 At the end of the day, put yourself into the recipients shoes and think "would I like receiving this note?"  I certainly believe that these thoughtful and nice touches can't hurt.  You never know who will pin your note up at their desk and remember you exactly when the time is right in the new year!