When it comes to looking for jobs, I find that a lot people get stuck at step one. I often hear "Where do I even look for openings?" The internet is a big place and there are a lot of sites dedicated to job postings. It can feel really overwhelming
So what are the best websites to search for jobs? And why?
As usual, I've got some thoughts… here are the 3 best websites to search for jobs, and why I'm giving them so much credit.
What's the scoop?
Indeed is a really simple, no frills way to search for jobs. Enter keywords + location and you're good to go. Want to get a bit more advanced? There's a spot to do that as well.
What I like about it:
The reason I love Indeed and recommend it to so many clients is because it is a one stop shop. Indeed "crawls" thousands of company websites and niche job boards and consolidates the results in one place. If you're looking for Financial Analyst roles at a retail company, you can search one time in Indeed versus visiting all of the websites of the companies you'd like to work for.
You should also know…
That you can set up job alerts on Indeed. By doing this, you'll receive an email anytime a new job gets posted that meets your search criteria. Don't spend your time on job boards when the jobs could be delivered to you instead. I am a huge fan of finding ways to be more efficient while job searching since it's pretty damn time-consuming.
#2 – LinkedIn
What's the scoop?
You all know about LinkedIn and probably are using it to manage your professional connections. However, the job search function on LinkedIn is really great too. While you're at it, you should also download the free LinkedIn app for your phone (here's more on that).
What I like about it:
A few things. The first is that it's not cheap to post jobs on LinkedIn versus Indeed which is totally free. Recruiters are selective about which roles to post on LinkedIn and usually choose to post the ones where candidates are actually needed. As a general rule, the quality of jobs up on LinkedIn is a bit higher than many other sites.
You should also know…
That sometimes a LinkedIn job posting will show you the person who posted the job (aka: the decision maker). This makes it 1000 times easier to reach out, introduce yourself, and make your case about why you should be considered. If you find a role on LinkedIn and see the poster, definitely consider sending a cold email.
What's the scoop?
You may already read The Muse for career advice, but hop over to their job boards too. While there aren't as many jobs posted as you might find on Indeed or larger job search engines, the jobs they post are cool and interesting. I find that a lot of smaller companies and/or growing startups post on The Muse, and I like what I see.
What I like about it:
The Muse takes the traditional job board a step further and gives you a glimpse inside the companies. You'll get a really good feel for what the work environment is like, which I think is so important and generally hard to assess before the interview process.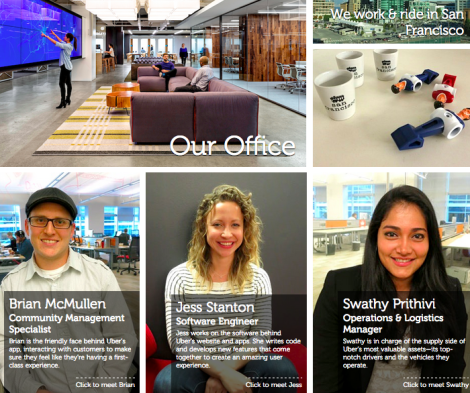 I also love that they have profiles of their different employees so you can "meet" your future coworkers. This site is a good place to browse and discover new companies and opportunities if you're feeling more flexible about your next step.
You should also know…
It's totally free to leverage their job boards and the other advice on the site too. It's a really great resource.
---
What sites do you use to search job postings? Would love if you would share them in the comments!
Featured image is of the Uber Office from The Muse