Happy Friday everyone! I know I've been all about LinkedIn these days but I can't emphasize enough how important it is in today's job search. I was super excited to see that as of yesterday there is a new LinkedIn Job Search app (for iPhone at the moment – you can download it here) and I am loving it.
I seriously wish this was around when I was looking for a job – it's a great tool. So I wanted to write a quick post about why I think it will help you big time if you're looking for a job right now (or in the future when you are).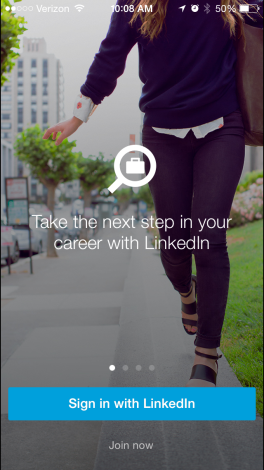 First off, this is why I think searching for jobs on LinkedIn is a great idea (with or without an app)
1. The jobs on LinkedIn really need to be filled – It's expensive to post a job on LinkedIn for a company. I've posted many and they are pricey which means recruiters prioritize the jobs they really need to fill for LinkedIn (versus posting anything and everything).
Therefore, unlike on a careers site, if a job is posted on LinkedIn you can assume that the company is actively looking to fill it with candidates that apply via LinkedIn (or online depending on the instructions).
2. It's easy – many jobs that are posted on LinkedIn allow you to apply with your LinkedIn profile versus a resume/cover letter combo. So it's essentially a one-click situation (assuming your profile is already in good shape).
3. Often times the recruiter who posted the job makes their name and profile available, so you know exactly who to reach out to in order to follow up. How great is that? No more resume black hole.
Now for a quick tutorial on the app features…
A few features that feel especially helpful when it comes to looking for a job…
Strong search capabilities – The app lets you search for different jobs, captures your recent searches to you can check again in a few days for any new roles, and lets you save searches as well. From there, you can take what you searched for an filter it further (by industry, by company, etc.) 
The discover feature – Maybe you're at a place where you don't even know what jobs to search for. Based on you LinkedIn profile (and your search history) the "discover" feature finds jobs you may be interested in/qualified for. I would say it did a pretty good job in finding roles that would be relevant for me when I tried it out.
Apply feature – For roles that allow you to apply using your LinkedIn profile, applications have never been easier. However, some jobs still mandate that you apply online. Either way, the app will keep track of the jobs you applied for you so you know to follow up. 
The fact that it's in your pocket and easy to check frequently. LinkedIn has a statistic on their website that's really interesting:  "Did you know that applicants who apply to job opportunities on the first day they're posted are 10% more likely to land the job? That means that if you are an active job seeker, your job search can't stop just because you've stepped away from your desk."  I do believe that if you are qualified, being one of the first applicants does give you an advantage (more on this here – see #3 in that post). And hey, if we can refresh Instagram 100 times a day, we can definitely also refresh our saved job search to see if any new and interesting positions crop up.
---
Can't wait to hear about your experience with this new app. Do you love it? Has anyone landed a job because of it? Share your experiences in the comments!