Something about coming back to school for the Spring Semester automatically puts Summer Internships on the brain.  While Summer is still plenty of months away, it probably is time to start thinking about what you'd like to do this summer… and start going after it. Kicking off this process can seem daunting, but organization (to the extreme) will be your best friend.  Here's The Prepary's steps on how to organize your internship search: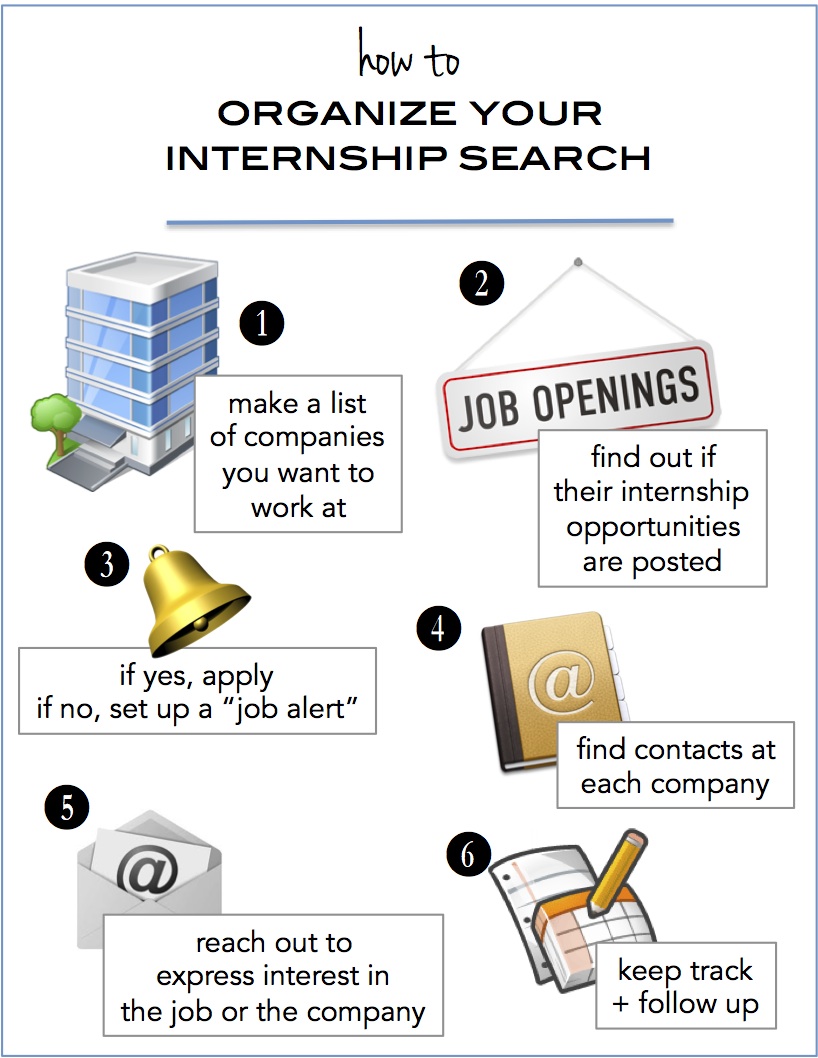 The first  key to organizing your internship search is tracking.
Because there will be so many opportunities, details, and contacts to keep track of, the first step is to create a great tracker.  We have a template you can use to start organizing right away (pictured below). In order to edit the template you'll need to "save a copy".

Now that you've started your internship application tracker, let's go through the different components of it:
Make a list of the companies you'd like to intern at this summer (Column A)
Since many students are open to interning in different fields and departments (that's the purpose of internships, to figure out what you like and what you don't like!) I suggest starting with a list of companies you'd like to work at.  You can choose ones you are interested in personally, or check out lists of great places to work like this one from Fortune Magazine.
If you are one step ahead and you already know you'd like to intern in a certain area, make sure you are targeting companies that have internship opportunities in those departments.  However, remember that sometimes you don't know until you ask.  A group that generally doesn't take interns might be happy to have you if they know you're interested.
Once you have your initial list of companies…
See if those companies have posted internship opportunities (Column B)
Most companies will post their internship opportunities on the same space that they post their regular job opportunities so start there.  Also look on other job posting sites like Indeed.com, Internships.com, and the many others that consolidate job postings from company websites.
If you do see an internship opportunity posted, that's great! Mark that in your spreadsheet  so you know you need to apply.  If not, don't worry, it's still very early on in the semester.  While you are on the company website it's a good idea to set up a job alert to let you know when an internship opportunity does get posted (so you can apply then).
Whether or not you've applied for a job, the next step remains the same…
Investigate if you have any contacts from that company in your network… and if not, go find some! (Column E)
Talk to the people you know about the companies you are interested in and see if you can find any contacts at those companies from within your network.  Believe it or not, your family is a great place to start as they could have many contacts you're not even aware of.  Asking your contacts for a referral can be really impactful (learn how to do that here).
If you haven't been able to find contacts within your network, that's ok, you can find them!  LinkedIn makes it possible to search by company name and also by keywords.  Generally the teams who run internship programs are the Recruiting or Human Resources teams.  Try searching by company name and "recruiting" or "HR" or other keywords.  Once you find the right contacts, don't be afraid to email them "cold"/out of the blue (but make sure you read this post first about the do's and don'ts).  You'd be surprised how successful this can be!
And lastly…
Keep track of everything and follow up
Follow up and persistance is the name of the game in the internship search.  It's one thing to get organized (which we've already done) but it's another thing to be disciplined about continuing to check that spreadsheet, monitor your progress, develop a routine, and not give up!
Once you've done the initial time-consuming part of applying to jobs and reaching out to your contacts, the work isn't done.  I suggest putting a weekly reminder on the calendar to pop into your spreadsheet and do an hour of work (whatever that may be!)
Whether it's reaching out to new contacts, adding new companies to the spreadsheet, or checking in with people you've already reached out to, don't ignore your internship search.  Keep at it and you will land a great one!
How do you organize your internship search? Share it with us in the comments!