Let's face it. People stress about what they're going to wear to an interview almost as much as what they're going to say. Although I'd love to sit here and tell you that what you wear doesn't matter, how you present yourself is part of the impression you leave on your interviewer.
Especially in the fashion, retail, and beauty industries, your outfit and accessories count.
This post is going to be all about interview appropriate handbags. First of all, you need one that at least fits your resume (always bring copies of your resume!) amongst any other materials you want to bring with you.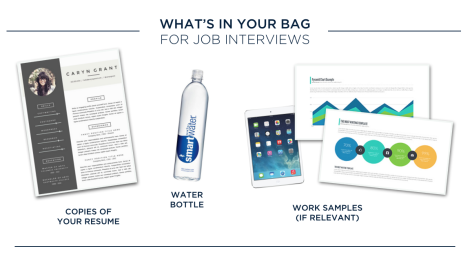 In some cases that might include samples of your work, and bringing a water along is always a good idea since you'll be talking a whole lot.
Size & type:
As far as size goes, I recommend a tote. It'll fit everything mentioned above and totes are considered appropriate work bags in general because they tend to have a little more structure and polish.
Luxury bags – ok or nokay?
This is a matter of opinion. If you're interviewing in the luxury fashion or editorial world and you happen to have a very nice handbag that is on trend, it could reflect positively on your personal style/taste.
However, carrying a really expensive bag (especially when interviewing for a more entry level or junior position) can have the reverse impact. I hate to say it, but you could inadvertently give off the impression that you don't need to work… which can lead someone to unfairly making a judgement on your work ethic.
So whether or not you whip out your fanciest bag should be determined on a case by case basis. If you're playing it safe… something more moderate would be my rule of thumb (fashion industry peeps, would love to hear your thoughts in the comments!)
Other considerations
Bags with good organization mechanisms are always good, so when you're pulling out your resume or work samples you're not fishing around forever.
Stick to neutral colors and nothing too shiny, embellished, or flashy, unless you're interviewing at a brand that has that exact aesthetic.
If you happen to own a handbag made by the brand you're interviewing for, do wear that one!
Some good options this winter
Oh the hunt for a good new tote myself, I did a little browsing and here are a few of my favorites at the moment. Most are under $300 and would be perfectly appropriate, safe option for an interview in any industry.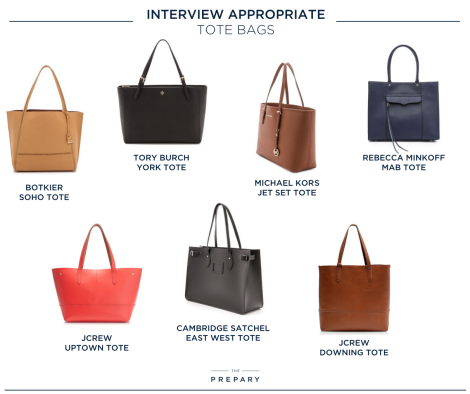 Top Row:
Botkier Soho Tote / Tory Burch York Tote / Rebecca Minkoff MAB Tote  / Michael Kors Jet Set Tote
Bottom Row:
Jcrew Uptown Tote / Cambridge Satchel East West Tote /  Jcrew Downing Tote
What are your favorite handbags for interviews and work? Leave us a comment!