Informational interviews can be a good thing. They allow you to meet the employees of a company, introduce yourself, show off your skills, and most importantly, allow you to gain information on how to land a job at that company. Take a step back and realize that this is your ultimate goal above anything else. I've written a post before about how to make the most out of an informational interview. This post is definitely related, but will be more focused on the actual questions to ask in an informational interview.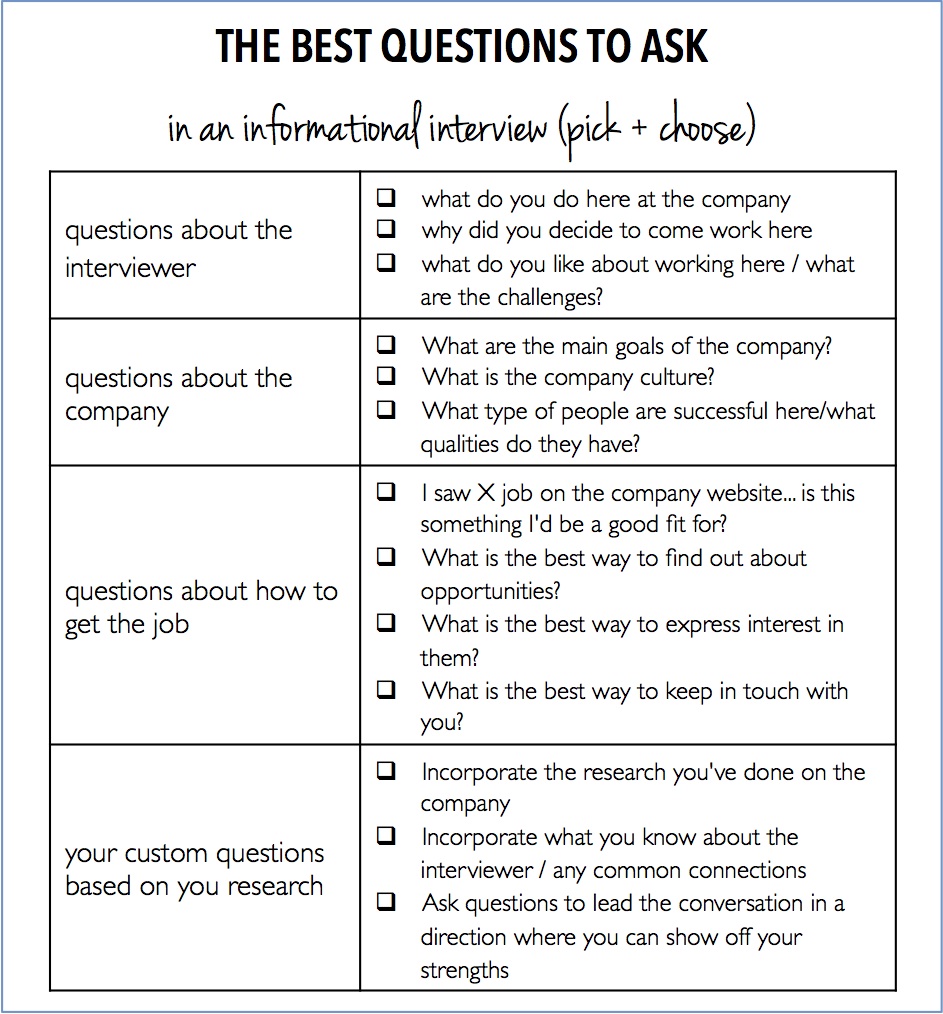 I'll give a little detail on each of these questions. Know that you don't have to ask each and every one of them. Also, come up with your own that are personalized to the company and the interviewer:
Questions about the interviewer
An informational interview is partly a way to build a relationship with the person you are talking to without 100% of the focus being on "how do I get a job?"  Showing interest in their background and experiences is an important part of an informational conversation. Be sure to recognize that there is a fine line between asking thoughtful questions about someones experiences and coming across as nosy and inappropriate. Gauge how much the person seems to enjoy these types of questions and adjust accordingly.
What do you do here at the company?
Why did you decide to come work here?
What do you like about working here/what are the challenges?
Questions about the company
If you are thinking about working somewhere, hopefully you've already done a lot of research on the company. This is your opportunity to get the answers that you couldn't easily find on the company website or online. In some cases, these might be the less tangible things, like culture. These questions below will not only come across as thoughtful, but they will also give you valuable insight into whether this is a company you'd really like to work for.
What are the main goals of the company?
What is the company culture?
What type of people are successful here/what qualities do they have?
Questions about how to get a job
It's always important to know what opportunities may be a good fit for you before going into an informational interview. If there is a role posted online that you meet the qualifications for (or come very close) you may be able to turn an "informational" interview into an actual one. Do your research beforehand on Indeed or the company website to see what they company is hiring for. In the case that there aren't current opportunities, use this chance to find out what the best way is to find out about future roles and to express interest.
I saw X job on the company website… is this something I'd be a good fit for?
What is the best way to find out about opportunities?
What is the best way to express interest in them?
What is the best way to keep in touch with you?
Your custom questions
This is definitely the most important and impactful group of questions. As much as the above questions are good, they are somewhat generic. The goal of any interview (informational or not) is to differentiate yourself from other candidates the company has seen. Make sure you customize your own questions in addition to asking those above to show how much you are interested in the company, and to show off the research you've already done. Basically you want to look prepared and ambitious.
Incorporate the research you've done on the company
Incorporate what you know about the interviewer / any common connections
Ask questions to lead the conversation in a direction where you can show off your strengths
…and more…
Now that you're armed with tons of questions to ask, keep in mind that part of the interview is going to be about asking questions to your interviewer, but in some cases, that part may be limited. Different informational have different tones. Some will be led by you with the questions you've prepared (better safe than sorry) and some will be led by the interviewer without much time for your own questions. Prepare the way you would for a normal interview to make sure you are ready to answer their questions too.
Be open going into the conversation and take cues from your interviewer on what type of informational interview it will be. Good luck, and we'd love to hear your experiences in the comments!