The most popular question I get asked by college seniors is about when to start applying for jobs.
The reason why they're asking me now is because they're starting to panic. They are noticing that some of their peers already have jobs… and perhaps have had them locked down for some time (does this sound like you?)
The thing you need to know is that there is a big difference between the campus recruiting process and the regular recruiting process. I've worked as a recruiter in both worlds, so I'll try to shed a little light.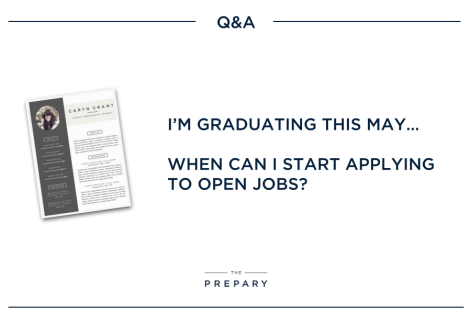 Campus recruiting for full time jobs tends to happen much earlier during the year. The companies who participate know that they will have business needs (maybe many!) for new grads and get a head start on hiring. Those companies recruit on campus, conduct interviews in the Fall or early Spring semester, and get their offers out before or during March.
The problem here is that not every company participates in the campus recruiting process.
Most companies hire based on immediate business needs, which means they open a job and want to close it as quickly as humanly possible.
This can be really frustrating for you guys out there who are graduating in May, because you want to be proactive and put yourself out there now. However, the reality is that if a job is open right now, the company wants to fill it before May and won't hire a recent grad… so what's the solution?
For those of you in this boat, here are my tips on timing and what you can do in the meantime:
You should apply 1-2 months before you're ready to work for regular (non-program) roles. Since recruiters know the recruiting process can take 2 months anyway, it's not a huge sacrifice to wait until your graduation date if you are truly the right person for the job.
Make sure you're applying for roles you are actually qualified for. Not all roles are intended for entry level candidates, and it's important you use your time wisely and focus on the right types of jobs. If you see that a posting is asking for 3 years of full time PR experience, skip it. If you see one that says 0-1 years and includes internship experience, go for it. It's a bonus if the job description says something along the lines of "perfect for a recent grad", which many do.
If you aren't at the point where you can apply yet, spend your efforts on networking! Make a list of 10 companies where you have connections and schedule phone calls with those contacts to learn more about the organization and their full time hiring process.
Set up job alerts for any companies of interest so you can stay on the pulse of openings, as they happen.
Spend your time making sure your materials (resume, cover letter, LinkedIn) are in perfect shape so when it becomes time to apply, you're 100% ready to go. If you need help with this step, definitely contact me!
I know it can be frustrating to sit back when your only goal is to land a job. Don't fight the process and instead, use this month wisely. If you do, you'll put yourself in a great position for when companies are ready to consider you.