Today's guest post is from Alicia Lawrence & she put together some really great advice about getting your online presence in good shape prior to interviewing. Thank you so much Alicia!  Hangout with Alicia on Google+
Getting Your Online Presence Ready for job interviews
In the digital age, it's not enough to prepare for job interviews by anticipating questions the interviewer will ask. Not only do we now have to look good and perform well, but we must make sure our online presence is just as presentable. This is an area that can cause confusion for job seekers because, really, whose advice can you trust? Thankfully, there are reputable sources out there to help you whip your online profiles into shape.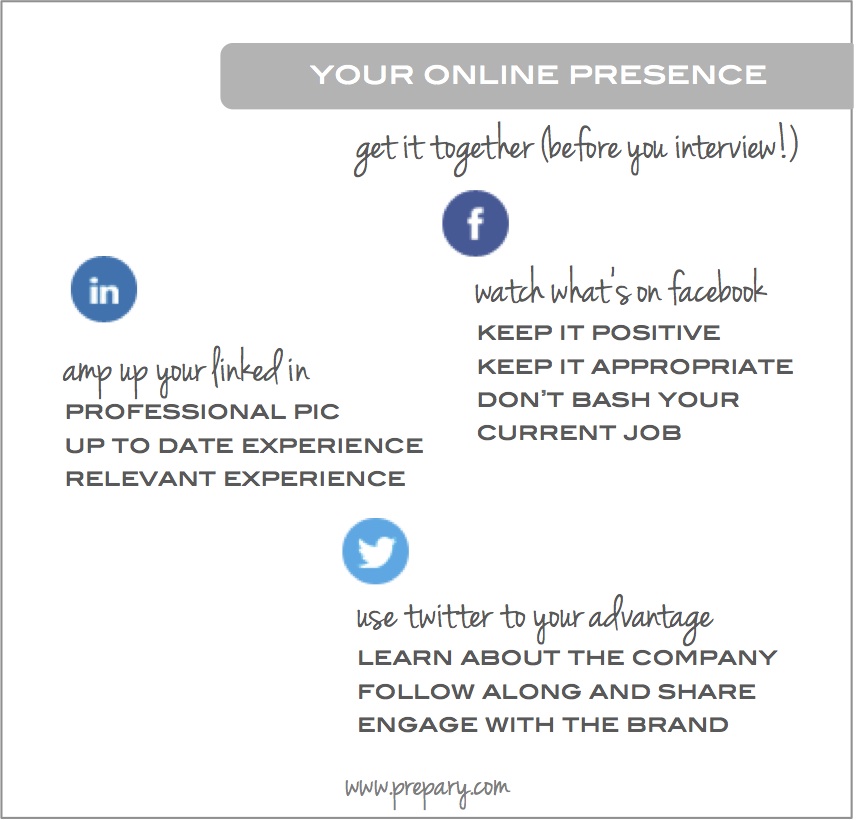 Amp up your LinkedIn profile
Professionals reference LinkedIn for a variety of reasons. It's useful for networking, making connections and, as recruiters and interviewers use them, to get a glimpse into the life of job seekers. When I came across an article called, "The Top 5 Mistakes Candidates Make on LinkedIn" I have to say that I was guilty of four of the five mistakes. My profile picture wasn't professional; it was a picture of me and my dog. While I love that picture, it won't likely be of interest to an employer.
I sought employment as a PR professional, yet didn't update my LinkedIn profile for a couple of years. It didn't even reflect my most recent experience as a part time content coordinator, surely helpful information to know about me. I still list jobs from my time in college. While I learned a lot, the skills of a cashier or knowledge of log cabin floor plans don't exactly translate to a high level PR experience.
Finally, I avoided connecting with people I've worked with because, again, I didn't even log in for two years. I simply didn't realize the power of LinkedIn for my job search. Thanks to the good advice I read on The Prepary, my picture looks professional, my experience is relevant, and I'm making connections with former coworkers to build up my network.
Be careful about what's visable on your Facebook profile
I know from experience that interviewers, current bosses and coworkers look at our Facebook profiles even if we haven't sent them a friend request. Sometimes, they're just curious but often, they'd like a deeper glimpse into the life of the person they're anticipating working with. In the past, I considered this my personal space and didn't feel the need to censor myself or professionalize it in any way. Knowing that even the most private profiles aren't truly private, though, I decided to clean up my act.
I still have personal pictures instead of professional ones, but privacy settings are now set to require approval before friends can tag me in posts or photos. After all, no one needs to see photos of you at your friend's 30th birthday bash. Who knows what those photos might reveal?
I also keep my updates positive and upbeat whenever possible because people don't like working with negative Nancies. You should be positive in interviews and in the work place. It's especially important to never post anything negative about work, especially if your posts are public. That looks bad to both your current employer and prospective employers.
Getting your online presence ready for a job interview is a must – don't make the mistake of ignoring it.
Network on Twitter
While LinkedIn is most commonly known as the career social platform, Twitter is a great tool as well to network with professionals. Before you interview with a company, scout out their Twitter feed to bring up topics they mention in your answers. Retweet a few of their posts or, after the interview, tweet something nice about the workplace, which can give you major brownie points.
Interacting on social media with the company you want to work with shows them you truly are invested in what they do. If you are still looking for a job, using hashtags on Twitter can help you find open positions. Do a search on Twitter for #jobhunt or #employment to see if any companies posted are hiring.
And She Worked Happily Ever After
After I applied these tips in my own job search, I was offered a content coordinator position at an Internet marketing company. They appreciated the passion I showed for the company and position not just in the interview room but online as well. My online presence was a major deciding factor in the hiring process. They key is to be proactive and make a special effort to show the company why you are a perfect match.
Even though I have a solid job, I'm always building up my online presence because you never know who is looking in the corporate world. Another great avenue I have discovered for building up your reputation is writing blog posts. Contributing solid articles to various sites in your niche shows your initiative, your passion, and your talents.
Best of luck in your job hunt!
Alicia