Let's take a break from some of our more serious topics on Prepary and share some techy fun… If you're in the middle of  a job search or have any sort of desk job (or both) you probably spend a ton of time on your computer.
I know my laptop often feels like an extension of my arms. While I don't necessarily mind that, I find myself doing anything in my power to make working on that laptop as nice, organized, and productive as possible.
For me that means, loading it up with plenty of apps that help me work faster and smarter (favorites of the moment are Wunderlist & Evernote – both free), deleting a million random files off my desktop every day (as tempting as it is to just leave them there), keeping organized folders with client docs/articles, and… making sure I have a nice computer background or wallpaper up. Anything pretty, motivating, or calming does the trick.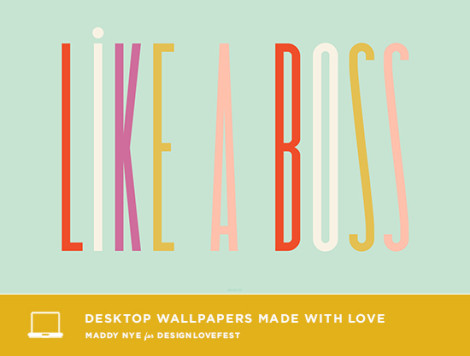 I recently discovered Design Love Fest on Pinterest and I am loving it!  Amongst other great content, they have tons of free and beautiful backgrounds for your computer, contributed by different artists and designers. Currently, I'm using the gorgeous watercolor background below by Julia Kostreva, but I'm planning to put a few of these into the rotation.
A few of my favorites are below. Sometimes it's the little things that end up putting some new energy into your day.
These and many more can be found on their site. Enjoy dressing up your desk(top)! All images from the downloads section of Design Love Fest