I spoke on a panel last week with some other recruiting and HR professionals who had some very sage advice. As job search advice can be subjective, the 3 of us were chatting before the panel about a few common questions to see how aligned (or unaligned!) we'd be.
The very popular question on following up after interviews came up right away. While we each had a slightly different way of phrasing our advice the general guidelines were the same. However, I loved this easy-to-remember rule of thumb from my fellow panelist Amanda and wanted to share with you guys!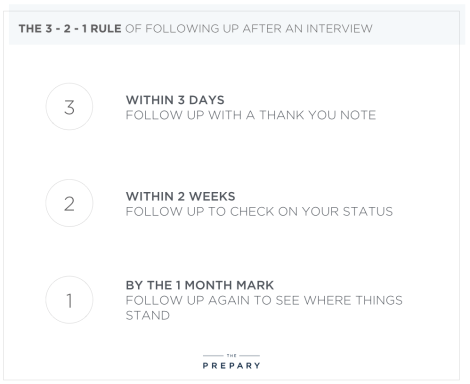 Pretty easy, right? Here's a little more info on each step:
Step 1 – Thank you notes out – within 3 days
I am a big fan of sending thank you notes (here's a post on how to write one) during the same day as the interview or the day after. However, if you're sending a handwritten note it will take a day or two to arrive and that's fine.
So ideal state = send it same day or the day after. The max # of days that should pass is 3.
Step 2 – Check in and get a status update – at or just before two weeks
While in an ideal world you'd get a status update a few days after that, this isn't how things usually go. Companies take time to share feedback, interview additional candidates, and even check out new resumes that have come in. There is a lot that can hold up the interview process and you may still be wondering where you stand after a week or two passes.
Unless your interviewer specifies a time period that you'll hear from them, 10 business days to 2 weeks is a good time to check in and essentially say, "hey I'm still out here!"
I recommend doing this via email versus phone as it gives the contact some time to gather a thoughtful and informative response before getting back to you.
Wondering what to write in that follow up email? There's a post with a template here.
Step 3 – Check in again – around the one month mark
If you wrote your follow up email and still haven't heard anything, I recommend checking in again on or before the one month mark.
You should send a similar email to your first check in reiterating your interest in the job and company. Don't worry if the note looks fairly similar to the last one you sent. Your goal is simply to get a response on where you stand and to know if there will be additional steps in the interview process.
---
What if I still don't hear back? How many follow ups is too many?
This sort of comes to down to personal preference. If you continue to follow up every 2 weeks and are still met with no response at all, it's likely you're not moving forward.
I'm not saying it's impossible but it's just not common. Sometimes it does take a long time for a company to make a decision for whatever reason but if you're still being strongly considered I'd expect some sort of "Hang tight, we're still working on it" response versus radio silence.
I know how disappointing this can be, but there is not a ton you can do to change this particular outcome. What I often tell my clients is that the most productive thing to do is to not dwell about the past and instead focus your efforts on new applications and doing an amazing job preparing for future interviews.
Related resources: interview recap checklist – interview prep worksheets – section of The Prepary on how to answer common interview questions