If you told me I'd be writing a post on how to use Pinterest for your job search a few months ago, I wouldn't have believed you. I firmly believed the land of Pinterest was reserved for fashion, DIY projects, cooking, and wedding planning.  And I definitely wouldn't have believed that it was a tool that can be used in the job search.
Well, I was very very wrong about that.  The truth is, lots of people prefer to learn and absorb information visually – and that information does not exclude learning about things like the job search, interviewing tips, preparing your resume, and lots more.
I'm not the only one who has realized this… and the resources on Pinterest that can help you in your job search are vast.  Here are a few easy ways you can leverage Pinterest in your job search and gain tons of valuable information: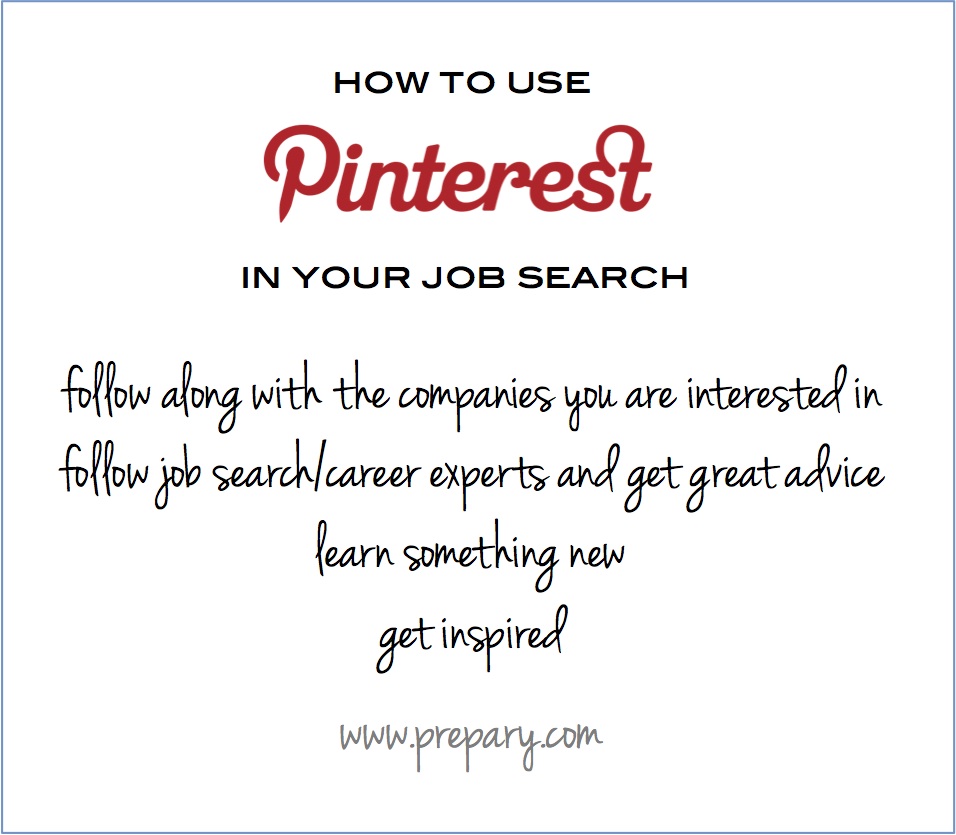 1. Follow the companies you are interested in on Pinterest
If you are really interested in a certain company, your research shouldn't start the day before your interview with them but instead should happen over time (even before a job is open).  This way you can start to absorb different things about their culture.  Creative companies especially can be big pinners (think art, fashion, editorial) and having some pins pop up from them each day will help you learn without much effort.  While some companies still don't have a presence on Pinterest, give it a little time… they will.
2. Follow career experts & get great job search advice
Job search experts and career related sites are beginning to use Pinterest boards to consolidate some of their most useful information and link to some of their best articles.  They're doing this by creating easy to read and follow images and infographics for you to pin (aka: bookmark).
Create a career/job search related board on your own Pinterest (you can make it private if you want) and start pinning job search and career resources that you might want to read later as you need them.  It's a great way to keep informative articles organized and have an image handy to remind you what they're about when you revisit them.
With that, I'd like to encourage you to follow The Prepary on Pinterest.  It's a great way to stay up to date on some of our most useful content.  Not only that, but when we come across a great pin from someone else, we'll be sharing that too!
3. Learn new skills/tips that will make you a better candidate
Pinterest is an amazing resource to learn new things (another thing that surprised me!)  Of course learning how to bake the best chocolate chip cookies may not help you land a new gig, but reading this cheat sheet to Excel or learning how to craft the perfect handwritten thank you note definitely might.  Now that Pinterest also allows video content, the "how tos" are going to expand enormously.  As an example, I found this video pin on how to dress for an interview extremely helpful.
4. Get inspired
Even if you're just using Pinterest for fun and as a creative outlet, your pins (and pinning behavior) will tell you a lot about what interests and inspires you.  Is it fashion, home decor, nature, art?  Pinterest is a great way to "pull the string" in a sense and dig deeper into things that spark your interest.  While I'm certainly not saying you'll pick your next career based on your pins, it is a pretty good indicator about what you're passionate about.
Source: clipboard.com via The Prepary on Pinterest
Note: One recent article I read recommended that you should pin your resume and this is not advice I agree with. Perhaps time will change my mind but for now I believe that even though Pinterest can be used to organize your creative work, it is not a good place to post your resume (or to direct employers to for the purpose of viewing your resume).
So if you haven't thought of Pinterest as a career or job search resource yet (just like I hadn't) it may be time to re-think and start using Pinterest to give you some really useful information that you can apply to your career and job search.
Who are your favorite career related pinners out there? Leave a comment so we can start following and re-pinning them too!