In addition to my favorite career and job search advice blogs, I also visit a slew of fashion, lifestyle, design (etc) blogs in my daily rounds – and love them. My favorite posts are always the ones where the bloggers feature their favorite things or round ups of cool things they discovered that week.
So although I'll never know how to make a perfect sock bun, craft the most elaborate cocktail, or know how to pair nautical stripes with polka dots,  I do know my stuff when it comes to fun essentials to keep you motivated in your job search or your day to day at work…
So here we go… my favorite things (in the world of desk decor, apps, gadgets, productivity tools, are more) for the job seeker or professional (or maybe just for fun) – August edition: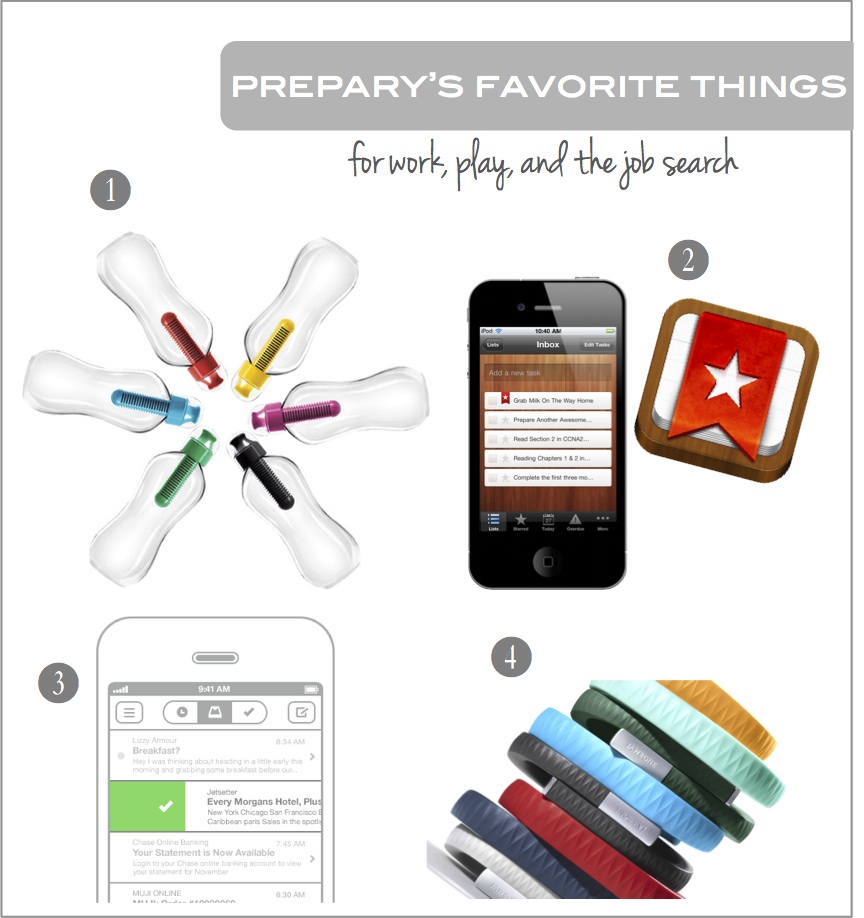 1. Bobble Water Bottles – I have one of these at my desk and one at my bedside at all times. It's pretty much just a normal, colorful, kind of cool-looking water bottle… but it has a filter that purifies the water as you drink it. If I didn't have this front and center on my desk, I'd be way less hydrated.
2. Wunderlist – I've sampled lots of to-do list apps and I think Wunderlist is the best one. They have an awesome iphone & ipad app that will make sure you never forget about the details – no matter how small. It's well-designed, easy to use, and my favorite part about it is that it seamlessly updates your to-dos across the website, iPhone, and iPad (so your tasks/reminders are always up to date no matter where you are checking them from). This app is a lifesaver.
3. Mailbox –  This is another game-changing app that I have on my iPhone. It somehow has mastered the (very difficult) task of making email manageable by turning your email into a "to-do" list with the goal of always being at "inbox zero". With a simple swipe, you can delete, file away, or archive a piece of email. You can also get rid of an email that you don't need to act on right away and have it pop back up at the appropriate time. I can't tell you how satisfying it is to get to inbox zero – though sadly I haven't been there in over a month!
4. UP Band by Jawbone – Let's face it. Sitting at a desk all day doesn't exactly keep you active. Lately, a crazy work schedule has led me to completely abandon any workout routine. The UP band does many things but for me, but the reason why I like it is because it reminds me to take care of myself. The two biggest features for me are these: 1. The band tracks my sleep, making me very aware of weeks where I'm not getting enough. 2. It tracks my movement and steps giving me a friendly little "buzz" when I've been inactive (aka: sitting at my desk) for too long.
I'm not saying this tiny band is going to make me go for a run or create more time in the day – but it does motivate me to walk home from work instead of taking the subway and other small changes that add up. It plugs right into your phone and downloads all this great data which makes me much more aware of how inactive I'm being on a particular day or week.
So that's the roundup for this month – what are your favorite things that keep you productive? Leave a comment!